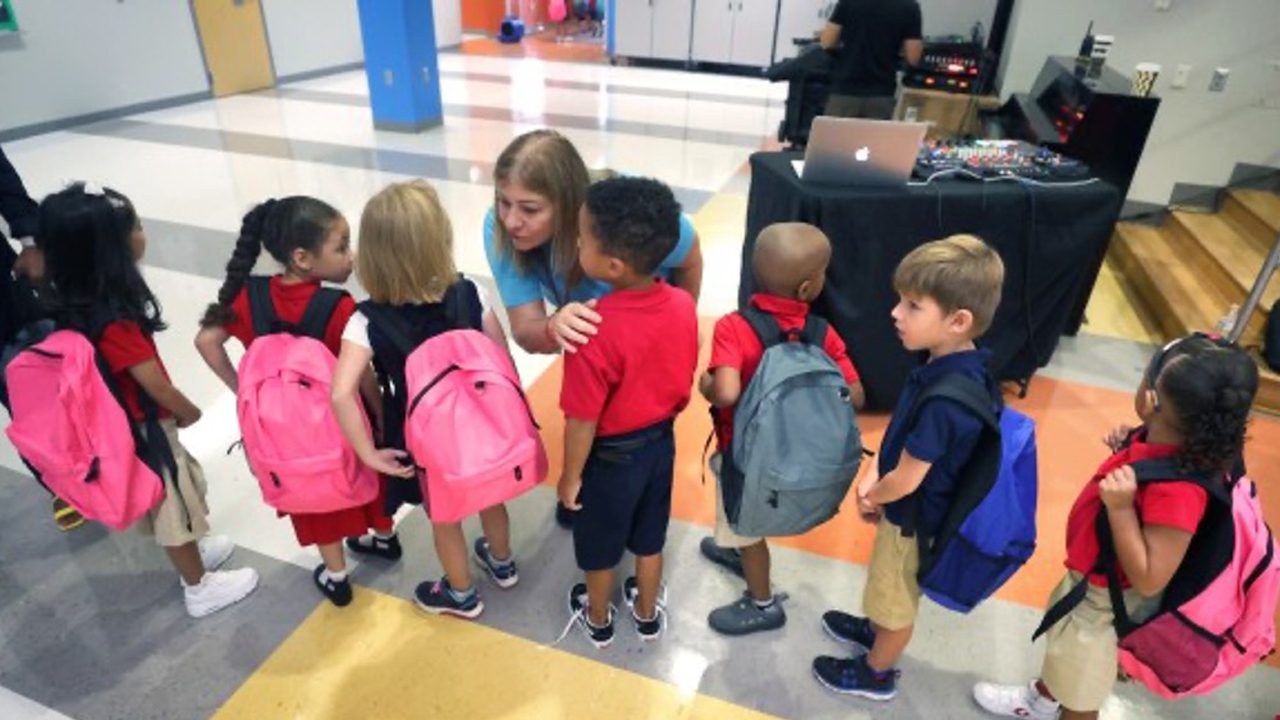 How bad is the teacher shortage in Florida? It depends on who you ask
Orlando Sentinel | By Leslie Postal | August 31, 2023
Florida needs thousands of additional teachers, but the extent of its shortage is a question mired in politics.
The Florida Education Association, the statewide teachers union, counted more than 6,900 teacher job postings on Aug. 7, three days before the first day of school in most Florida districts. That was an increase from last year, and the union blamed Gov. Ron DeSantis and his Republican allies for an "anti-education agenda" that was pushing out teachers and "harming Florida's children."
Education Commissioner Manny Diaz, a former state lawmaker tapped for the job by DeSantis, announced on Aug. 14 that there were 4,776 vacancies or about 2,000 fewer than the union count. Diaz first shared his numbers — which he said represented an 8% decline from 2022 — not through the Florida Department of Education but with the conservative Heritage Foundation, highlighting the issue's political implications.
Diaz called the union's numbers "a complete myth" and said the DeSantis administration has "championed" policies to improve the teaching profession.
Whatever the opening day count, Central Florida schools were still looking for teachers even after classes began.
On Aug. 21, for example, Lake Howell High School in Seminole County advertised on the district website for a biology teacher, an English teacher, a math teacher and a physical sciences teacher.
On Aug. 24, College Park Middle School in Orange County posted a "We are hiring!" message on Facebook, saying it needed language arts, math and science teachers, 12 in all.
On Monday, the Osceola County school district posted that its schools were looking for teachers for children with disabilities, fourth-grade, middle school language arts and high school geometry, among others.
Tuan Nguyen, an associate professor at Kansas State University who studies the teacher labor market, said he has not dug into why the union and state counts differ, though the timing of when vacancies are counted likely is part of the explanation.
He said he hasn't had reason to doubt vacancy numbers from the Florida Department of Education, but his research also shows that Florida needs more teachers and that the demand has gotten worse in recent years, as it has in many states.
Florida's teacher vacancy rate last year put it in the bottom half of the 50 states, Nguyen said. The Sunshine State had a vacancy rate of 19 teachers per 10,000 students. That was not nearly as bad as West Virginia, which had a vacancy rate of 59 teachers per 10,000 students, he noted, but well off from Utah's vacancy rate of less than one teacher per 10,000.
Florida was also among the top 25% of states with the most "underqualified" teachers two years ago, a trend that likely has continued, he said. It had 80 "underqualified" teachers per 10,000 students, or instructors who were not fully certified or not certified in the subject they were teaching.
Research shows those teachers tend not to stay in the job very long, so "it creates a cycle of churn," Nguyen said, with administrators constantly recruiting and hiring and making it hard "to build a school culture."
Diaz said Florida wants qualified teachers in all its classes. "The most important thing for our students is to have a high-quality teacher in front of them," he told the State Board of Education on Aug. 23.
But some of the initiatives the state has pushed could lead to more teachers that researchers such as Nguyen would call "underqualified."
New legislation this spring extends from three years to five how long new teachers can work on a temporary certificate, and 39,600 teachers benefited from the extension, the education department said.
The DeSantis administration also has created options for military veterans and others without a bachelor's degree to begin teaching careers and adopted a new rule that allows teachers early in their careers with good evaluations to skip taking the "general knowledge" exam that has long been part of the certification process.
The state also has earmarked millions of dollars for teacher raises, mostly to boost starting pay, which is now $48,400 in Orange. That has helped those new to the profession but upset veteran teachers who say their pay has stagnated.
In Florida, as in other states, the teacher shortage stems from a combination of factors, including fewer college students studying to become teachers.
Nguyen said new Florida laws restricting what can be taught likely play into the shortages, too. Florida has limited what can be taught about racism, sexual orientation and social emotional learning and heightened reviews of library books, which have led to some titles being banned from schools.
"There are lots of things that are going on in Florida that probably aren't that appealing to people who might join the profession," he added.
That is the view of the state teachers union, which said it stands by its vacancy count. That count has been done the same way for several years, with union officials counting vacancies posted on school district websites. Statewide, it counted 914 more openings this year than last, though it noted declines from 2022 in some districts, including Orange's.
The state "can do its best to minimize the staffing crisis facing Florida's public schools, but the truth is in the numbers," said Andrew Spar, the union's president, in a statement. "Due to low pay and a divisive political climate of fear and intimidation, the teacher and staff shortage has gone from bad to worse under the DeSantis administration."
In an interview with NPR on Aug. 17, Spar said his youngest daughter, a ninth grader at a Volusia County public high school, did not have an English teacher when the year began.
Diaz, however, called the union count "completely unreliable and not accurate." He said not all job postings end up meaning a missing teacher, as districts sometimes shift teachers from under-enrolled schools to ones that need more teachers. The education department based its count on calls to district administrators, he added.
"There's been a narrative out there that's been a complete myth," Diaz said at the board meeting.
The department was pushing to process certification applications quickly, he added. "We expect the number of teacher vacancies to continue to decrease."