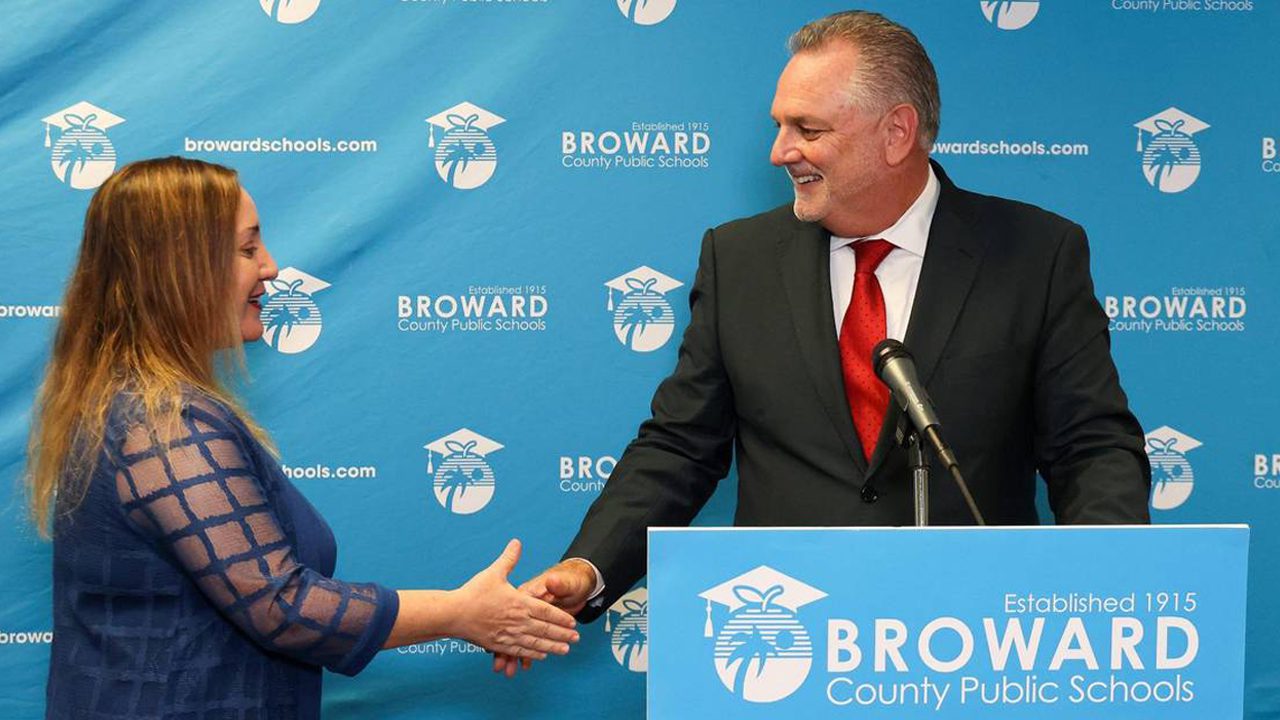 'I'm coming home.' Broward School Board names Palm Beach administrator as its superintendent
Miami Herald | By Michelle Marchante | June 15, 2023
The Broward School Board named a Palm Beach County school administrator who was born in Fort Lauderdale as its next superintendent Thursday, as the nation's sixth-largest school district contends with declining enrollment, learning losses from the pandemic and a push by parents and politicians to inject politics into the classroom.
The board voted 7-2 to hire Peter Licata, a regional superintendent at Palm Beach County Schools who attended first grade at McNab Elementary in Pompano Beach. The two dissenters were Torey Alston and Brenda Fam, who both voted for Sito Narcisse, the superintendent of the East Baton Rouge School District in Louisiana. On a second vote, the board voted unanimously to begin negotiating his contract.
The third candidate, Luis Solano, a deputy superintendent for the Detroit Public Schools Community District, did not receive any votes.
"This is a dream job. I'm coming home!" said Licata, who became a teacher after realizing at his father's funeral the impact his dad had as an algebra teacher and basketball coach. "We get one shot at this and I'm not spending it on the sidelines. We get one shot to make an impact in something we love."
The vote came after each board member had interviewed the three candidates and then discussed them. At first, it wasn't clear who would get the nod.
Narcisse had drawn support from board members Torey Alston, Brenda Fam and Allen Zeman. Board member Daniel Foganholi talked about delaying the vote and staying with interim superintendent Earlean Smiley, saying none of the three candidates had wowed him.
But board chair Lori Alhadeff, vice chair Debra Hixon and board member Sarah Leonardi were effusive in their praise of Licata, noting he attended Broward schools, had a deep knowledge of the educational issues in South Florida and would immediately make an impact.
"I believe he is the transformational leader that we were seeking for Broward County Public Schools. I believe through his words and actions that he will take us to become an A school district," Alhadeff said in a press conference after the vote at the board's headquarters in Fort Lauderdale.
Licata, 58, a University of Miami graduate, began his teaching career at John F. Kennedy Middle School in Palm Beach County. He has been an administrator in Palm Beach County Public Schools since 1994.
Thursday's vote caps a tumultuous time for the Broward School Board, which fired its previous superintendent, VIckie Cartwright, in a late-night move in November, rescinded her firing in December after a new board was elected and agreed to part ways with her in January.
Cartwright, who had been superintendent since February 2022 and interim superintendent for seven months before that, left the district in February with a payout of nearly $268,000 in severance.
The board will begin negotiating a contract with Licata. Cartwright had a three-year contract, earning $350,000 a year, which was slated to run through Dec. 31, 2024.