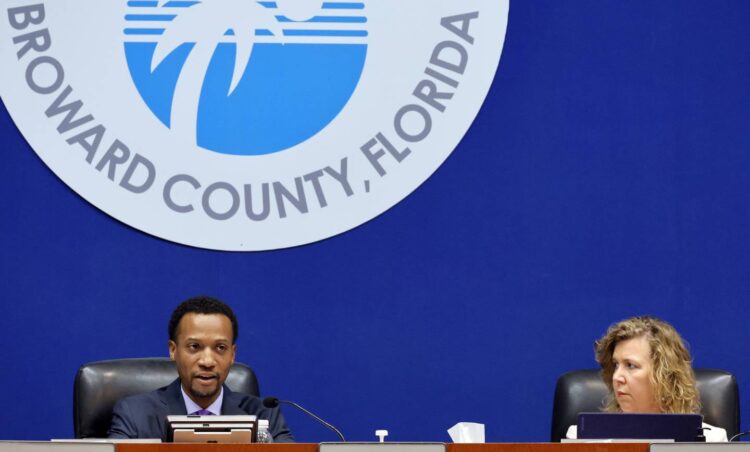 Is Broward schools chief's job in jeopardy? DeSantis' 'reform board' is weighing her future.
South Florida Sun-Sentinel | By Lisa J. Huriash | October 19, 2022
The future of the Broward schools superintendent may now be in jeopardy, on the heels of a preliminary job evaluation that had deemed her an "effective" leader.
With only a year on the job, Broward Schools Superintendent Vickie Cartwright took a tongue-lashing Tuesday from School Board members appointed this year by Gov. Ron DeSantis. The fivevoted as a block to not support the "process" of the recent evaluation.
Immediately, the 5-4 vote doesn't create change. But board members say it could be a precursor to the possibility Cartwright could be fired in the coming weeks.
Board member Daniel Foganholi, who is a DeSantis appointee, blasted Cartwright, saying she "doesn't listen." He said there is a "toxic culture" with poor communication. The previous board became "enablers." And he said he wanted a leader who would "change this culture."
"This board, and it's been a tradition, they don't want a superintendent that knows how to lead, they want one that they can control," Foganholi said. "They don't want a leader."
In August, DeSantis appointed four people to the board after suspending four School Board members recommended for removal by a statewide grand jury report. Before that, in May, he also appointed Foganholi, also a new board member, as a replacement for one who stepped down to become a state senator.
DeSantis convened the grand jury in 2019 to focus on safety and security issues statewide in the wake of the Parkland high school shooting. The five new members referred to themselves as a "reform board" for change.
Cartwright, a former superintendent in Oshkosh, Wisconsin, was first hired in 2021 after replacing former superintendent Robert Runcie, who resigned after his arrest on a felony perjury charge.
But last month, a State Board of Education leader suggested that Cartwright should be removed from her job, both for issues outlined in the grand jury report and her prior defense of mask mandates, fueling speculation that the Republican-appointed majority would heed his words.
When asked if the superintendent's job could ultimately be in jeopardy, Foganholi responded Wednesday: "I think, as a Board, we have to have an honest discussion on the direction of the district."
Some board members spoke out in favor of letting Cartwright be.
"I've heard very few people talk about students today," said board member Debbi Hixon. "We should be more focused on our students."
School Board member Sarah Leonardi said the district has gone through "one crisis after another, there's so much instability."
"She needs time and space to do her job," she said of Cartwright.
Do they think the superintendent's job could be in jeopardy?
"I hope not but possibly," said Hixon.
"I obviously wouldn't support that but it seemed like based on the comments that some of my colleagues made … that could be the case," said Leonardi.
As early as next week, board members are supposed to get a report on the district's response to the grand jury and the "plan to resolve those issues and an update on what has been corrected already," said board member Kevin Tynan, who is among the DeSantis-appointed majority. "For me, that's a very important goalpost. What can you show me that has been done to make headway, and significant headway, and what is the plan forward? If you don't see that, there's a majority of the board who can be upset about that."
Tynan acknowledged that the State Board of Education leader's comments "makes us look at an issue … and those of us on a short leash know we only have a certain amount of time to effectuate change.
"I'd rather do it by pushing and prodding, and that was the message to the superintendent that we need to do more."
Three other governor-appointees — Torey Alston, Ryan Reiter and Manual "Nandy" Serrano —did not respond to text Wednesday when asked about Cartwright's future, particularly whether being fired is a consideration.
Many of the new board members won't be there after the Nov. 8 election. While Alston will stay for two years to fill out the remaining term of a school board member he replaced, the terms of the other three appointees and Foganholi expire in November, and they'll be replaced by the winners of four runoffs to be held Nov. 8.
The new members will be sworn in later that month at a Nov. 22 ceremony.
In her first evaluation since beinghired as the permanent superintendent in February, board members rated Cartwright as "effective," the second-highest of four possible scores.
But a new controversy recently erupted.
The school district rescinded an offer for the chief facilities officer after finding out that the candidate faced issues in his former position in Pompano Beach. District staff had obtained a past letter from the city of Pompano Beach indicating the candidate was being terminated because he had another job, an assertion that the candidate had denied.
The job of chief facilities officer has been vacant since 2019, and the grand jury report cited that as one of many problems that have stymied the progress of a school renovation program funded by an $800 million bond referendum passed in 2014.
Speaking on her behalf, Cartwright said "while there is a lot of work that still needs to be done, we are on the right track." She said there have been "significant accomplishments that have occurred," citing on the first day of school, every bus route had a bus driver, and there's a certified teacher in every classroom.
She assured the board her team has a "laser light focus … for the best outcomes for our students and our staff."
She acknowledged: "There's a lot of work to be done still."
After she spoke, Chairman Alston slammed the superintendent for "a lack of vision … questionable judgment, and what I would call a failure of leadership."
"The easiest thing for me to do is do nothing," he said.
It was his motion for the Board to not accept the process of the last evaluation and appraisal system.
"If I choose to bring any additional action … that will occur at a different time period," Alston said.