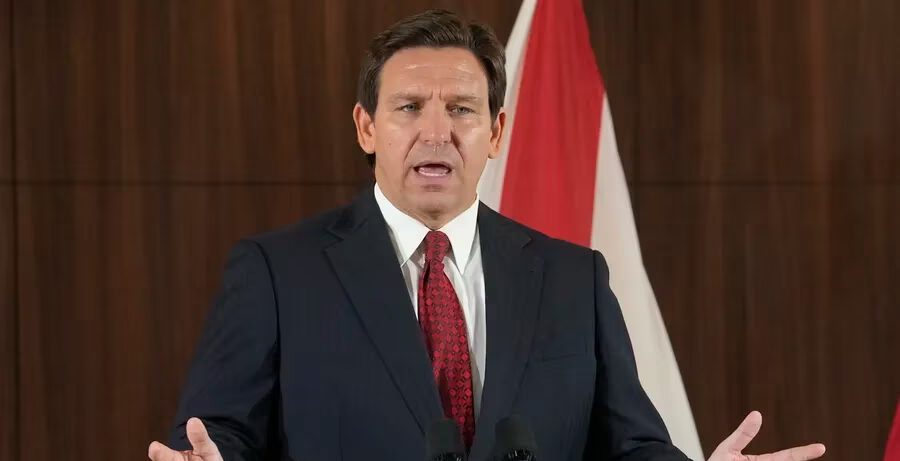 Miami AP African American studies students say Florida rejection of class 'shocking'
Tampa Bay | By Sommer Brugal | January 31, 2023
Robert Morgan Educational Center in southwest Miami-Dade was one of the schools that piloted the new class.
Last fall, Jaden Walter opted to take a new Advanced Placement African American Studies course during his last year of high school because he wanted to learn more about African American history.
The senior wanted to understand more about "where we came from," he told the Miami Herald.
In five months of the pilot course, he said he'd learned more about slavery and African American culture than he had in any other history class. He learned about other countries' perceptions of Black people, particularly those in the Caribbean, and how many things Americans enjoy today, such as music and food, have roots in slavery, he said.
And as a 17-year-old African American student at Robert Morgan Educational Center in southwest Miami-Dade, said he felt more involved in his own history and more in tune with the contributions African American people made to this country.
So when he was informed halfway through the academic year that his sixth-period class would be canceled, he was shocked and upset. Not just because his education was disrupted but because he was losing access to information he wanted to have — and he wasn't alone. About two dozen students had also enrolled in the pilot course at the A-rated school ahead of the 2022-23 school year, despite the inability to earn college credit or enhance their GPA by taking such a rigorous course.
Earlier this month, Gov. Ron DeSantis and the Florida Department of Education rejected the AP course. Initially, neither the governor nor the department offered a reason for the decision, stating only that it "lacks educational value." Days later, however, the department cited concerns with topics in lesson plans about Black Queer Studies, the Black Lives Matter movement, Black Feminist Literary Thought, the reparations movement and the Black Struggle in the 21st Century, and other readings by Black scholars, activists and writers.
As a result, Walter's class — one of 60 nationally chosen to participate in the first year of a two-year pilot program overseen by The College Board — was canceled earlier this month. The students were told the course would transition to an African American History honors course.
The College Board, working with college professors and longtime AP teachers in high schools, develops rigorous AP courses for high school students so they can achieve college credits while in school. To qualify for college credit, students have to pass an AP exam for that course administered at the end of the school year.
According to a Miami-Dade County schools spokesperson, the course materials were discontinued after the Florida Department of Education indicated the materials were "contrary to Florida law."
"Robbed" of their education
"It sucks," Chyna Lee Hunter, 17, told the Herald. She and the other students have spoken out about how they feel "robbed" of their education and censored from what they can be learning.
Some students, including Hunter, who is Chinese, Jamaican and Guyanese and took the class to feel more in touch with her Black identity, have written to DeSantis to complain.
"If this is a change they're going to make (and) take away from me learning simple history, what else can they take away from my education?" she said. If history only focuses on one culture, "we won't know the full story. Everyone is always going to feel uncomfortable and misplaced."
The College Board is expected to release its updated version of the AP course Wednesday, the first day of Black History Month. It's unclear what or how much of the curriculum will change following the threats made by the Florida Department of Education.
Pushback from local, state leaders, Illinois governor
Sharp rebukes from Florida's Black leaders, national organizations and other state governors came in the days following the governor's announcement.
The NAACP in a news release said DeSantis' "flippant dismissal" of the course "is not only a dereliction of his duty to ensure equitable education for all Floridians, but shows clear disdain for the lives and experiences that form part of our national history."
The organization also called out the state's "dismal record" regarding education equity for Black students. Graduation rates among Black students across the state and in Miami-Dade County for the 2022-23 school year, for example, were lower than the rates for white, Asian and Hispanic students.
For his part, Florida Department of Education Commissioner Manny Diaz defended the department's position after the initial announcement drew pushback. On Twitter, the commissioner said the department "proudly require(s) the teaching of African-American history," referring to a 1994 law that requires that classes include Black history studies.
But, Diaz added, not if it's "woke indoctrination masquerading as education."
This isn't the first time the governor or the state Department of Education has limited what can and can't be taught in public school classrooms. Last year, the Legislation passed a series of bills — now laws — that prohibit classroom instruction on sexual orientation and gender identity for students in third grade and younger and how race-related issues are taught in public universities, colleges and in workplace training.
Nevertheless, during a news conference Thursday at the Capitol Rotunda, Ben Crump, a Tallahassee civil rights attorney who has represented families in several high-profile civil rights cases, warned DeSantis that if he didn't stop attempts "to exterminate Black history" in Florida classrooms, he and other Black leaders would sue him for violating the constitutional rights of students.
Out of state, Illinois Gov. J.B. Pritzker last week warned the nonprofit that oversees the Advanced Placement program the state would reject a revised African American Studies course if it doesn't include "a factual accounting of history, including the role played by Black queer Americans," according to the Chicago Sun-Times.
"Shocking to hear we'd stop midway"
Cyara Pestaina, a senior, felt confident in her knowledge of African American history. She's a member of NAACP youth programs and her father teaches African American history in Miami-Dade County schools.
But like many other students, Pestaina, 18, enrolled in the AP course because she wanted to learn more. And she did, particularly about other regions and South America.
One of the best aspects of the class was that every student had a connection to what was being taught, she said. That's one reason Pestaina, who is Black, felt so disappointed by the pilot's cancellation.
The class wasn't always about the issues. Instead, it was about art, culture and how different backgrounds created the base of American culture, she said.
"We don't get a lot of chances to look into how African history plays into this country, (and) we talked about serious topics that are hard to talk about," she said. "It was shocking to hear we'd stop midway through the year and be degraded to a class we didn't choose."
For Walter, though, the disappointment is more about what he believes is a misconception about the course.
Those who've rejected the course, he believes, think the class — and some of the topics or authors featured — are meant to tear down American culture. But for Walter, it simply offered more information.
"The class didn't make me feel a different way or change how I see different cultures or white people," he said. "It just made me feel that African Americans also had an impact. It doesn't have to bring their side down. It just brings our side up, too."