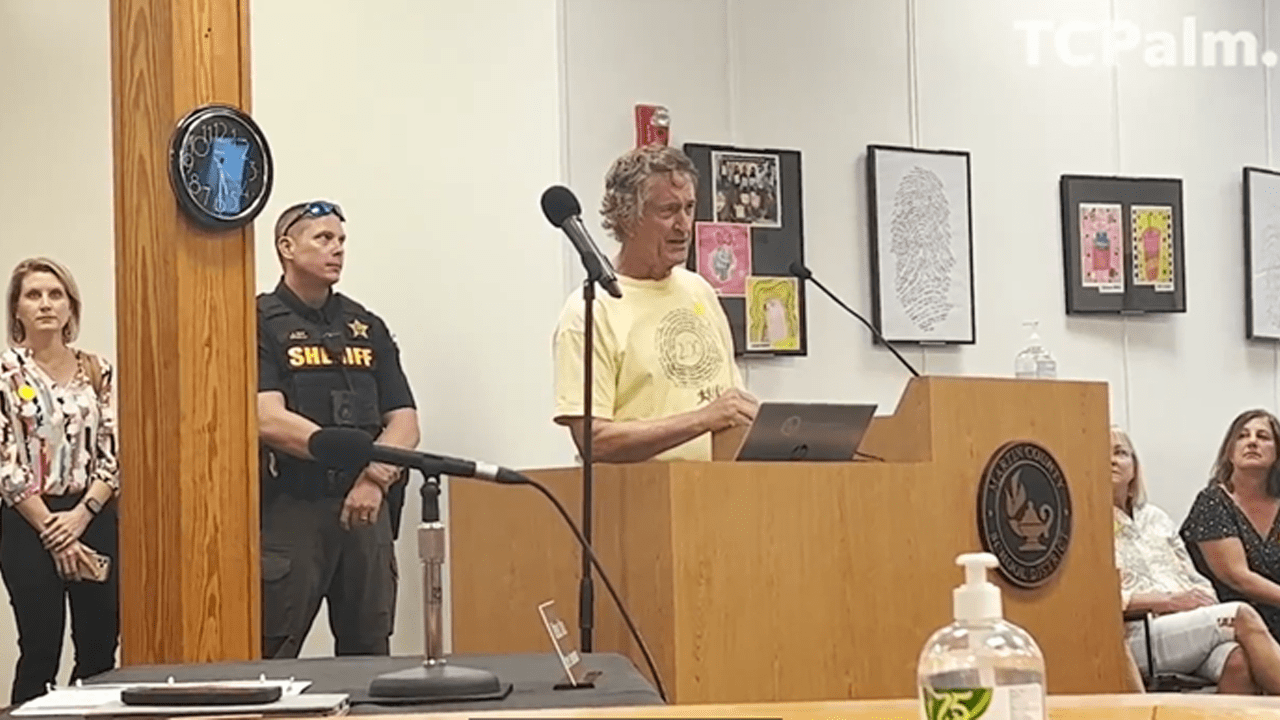 Moms for Liberty wanted these 33 books removed from school libraries in Indian River County
Treasure Coast Newspapers | By Gianna Montesano | August 31, 2023
INDIAN RIVER COUNTY − About 40 people read excerpts to the School Board Monday night from from books they deemed sexually explicit. Their aim was to have the books removed from school libraries, a move the School Board took unanimously.
Under a new state law, H.B. 1069, parents have the right to publicly read passages from any book as part of their objection to that book. If the school board denies a parent from reading passages because of sexual content, the district is required to discontinue the use of the material.
During the meeting, School Board Chair Peggy Jones stopped speakers from reading passages aloud and requested certain excerpts have content warnings for remote viewers. The board voted unanimously to remove the books from school libraries.
By school district policy, a book challenge must start with a complaint to the school principal, followed by a referral of the book to a district book-review committee.
What is House Bill 1069?
H.B. 1069 is a state education bill which outlines requirements for age-appropriate and developmentally appropriate instruction for students in pre-K through 12th grade. The law went into effect July 1.
Part of H.B. 1069 outlines the process for challenges to books and classroom materials, including what type of content is deemed inappropriate to read, which are considered:
Pornographic
Depicting or describing sexual conduct
Not suitable for students' needs or ability to comprehend the material
Inappropriate for the grade level and age group for which the material is used
What books were cited at the Indian River County School Board meeting?
Moms for Liberty, a conservative political group, and community members highlighted 33 previously challenged books to the School Board.
Members of the public went up to the podium and were allotted 3 minutes to speak. They chose to either read excerpts from the books or ask for the books to be reviewed because of their content.
"America" by E.R. Frank
"The Handmaid's Tale" by Margaret Atwood
"Go Ask Alice" by Anonymous
"Drama" by Raina Telgemeier
"Dime" by E.R. Frank
"Fade" by Lisa McMann
"The Assassin's Blade" by Sarah J. Maas
"Fallout" by Ellen Hopkins
"Collateral" by Ellen Hopkins
"A Court of Wings and Ruin" by Sarah J. Maas
"Homegoing" by Yaa Gyasi
"Extremely Loud and Incredibly Close" by Jonathan Safran Foer
"Living Dead Girl" by Elizabeth Scott
"Me, Earl and the Dying Girl" by Jesse Andrews
"Tilt" by Ellen Hopkins
"Sold" by Patricia McCormick
"Crank" by Ellen Hopkins
"Concrete Rose" by Angie Thomas
"Looking for Alaska" by John Green
"Life is Funny' by E.R. Frank
"The Duff" by Kody Keplinger
"Throne of Glass" by Sarah J. Maas
"Perfect" by Ellen Hopkins
"Grown" by Tiffany D. Jackson
"Tricks" by Ellen Hopkins
"The Bluest Eye" by Toni Morrison
"Kingdom of Ash" by Sarah J. Maas
"The Tower of Dawn" by Sarah J. Maas
"Thirteen Reasons Why" by Jay Asher
"Glass" by Ellen Hopkins
"The Female of the Species" by Mindy McGinnis
"Shine" by Lauren Myracle
"Unravel Me" by Tahereh Mafi
What are book bans?
Book bans, or book removals, are defined as any action taken against a book based on its content, according to PEN America, a nonprofit focused on defending free expression in the U.S.
In 2022, five of 156 books challenged by the Moms for Liberty group were removed from school libraries by the Indian River County School Board. The rest were returned to school libraries, although some were moved to the high school level and now require parental permission for students to check them out.
What's the No. 1 most-banned book in America?
PEN America released a list of the 11 most-banned books during the 2022-2023 school year. Six were among the 33 titles brought up at the School Board meeting.
"Gender Queer: A Memoir" by Maia Kobabe and "Flamer" by Mike Curato tied for first place, according to PEN America.
No. 3: "Tricks" by Ellen Hopkins
No. 4 (tie): "The Handmaid's Tale" by Margaret Atwood
No. 4 (tie): "Crank" by Ellen Hopkins
No. 6 (tie): "Sold" by Patricia McCormick
No. 6 (tie): "Push" by Sapphire
No. 6 (tie): "A Court of Mist and Fury" by Sarah J. Maas
No. 9 (tie): "This Book is Gay" by Juno Dawson
No. 9 (tie): "The Bluest Eye" by Toni Morrison
No. 9 (tie): "Milk and Honey" by Rupi Kaur