Florida school board forced to remove dozens of books after parents read 'graphic' passages aloud
One concerned citizen was escorted away from the podium by security while reading
Fox News | By Nikolas Lanum | August 31, 2023
A Florida school board voted unanimously to remove several dozen books from school shelves after concerned citizens read graphic excerpts from the hotly debated novels.
The board decided to remove the books in question because of a rule signed by Florida Gov. Ron DeSantis in May that states parents "shall have the right to read passages from any material that is subject to an objection."
Under HB 1069, if a school board denies parents the right to read passages considered "pornographic" or "harmful to minors," the school district must discontinue the use of such materials.
During the Monday meeting at the Indian River County School Board, over 30 parents and community members successfully had the books removed when they were cut off from speaking at the podium.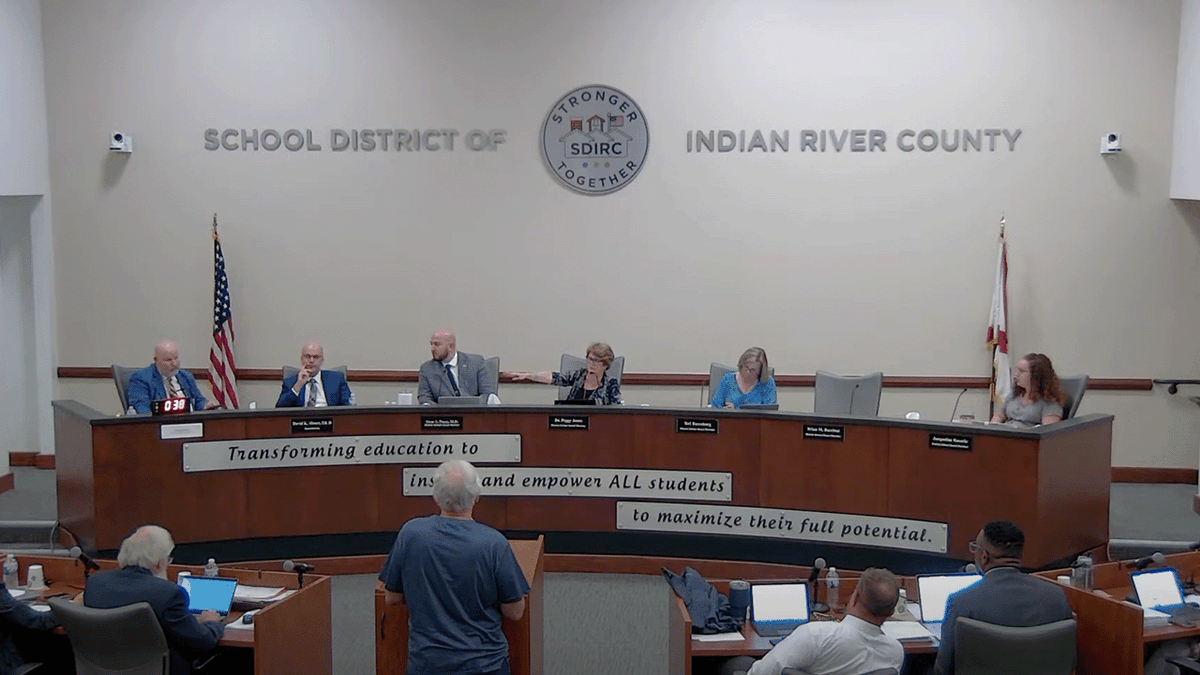 The Indian River County (Florida) School Board unanimously voted to remove books from school shelves during a meeting Monday. (Screenshot/School District of Indian River County)
In one viral video posted to social media, Pastor John K. Amanchukwu Sr. was interrupted by the board while reading the book "13 Reasons Why" by Jay Asher.
"As if letting him finger me was going to cure all my problems," Amanchukwu Sr. read from the book.
"Sir, I'll stop you there," one board member responded.
When Amanchukwu Sr. continued reading from the book, security swiftly escorted him away from the microphone.
Another parent was cut off while attempting to read a passage from the book "Living Dead Girl" by Elizabeth Scott, describing an incident where an adolescent is pushed and has her pants forcibly removed.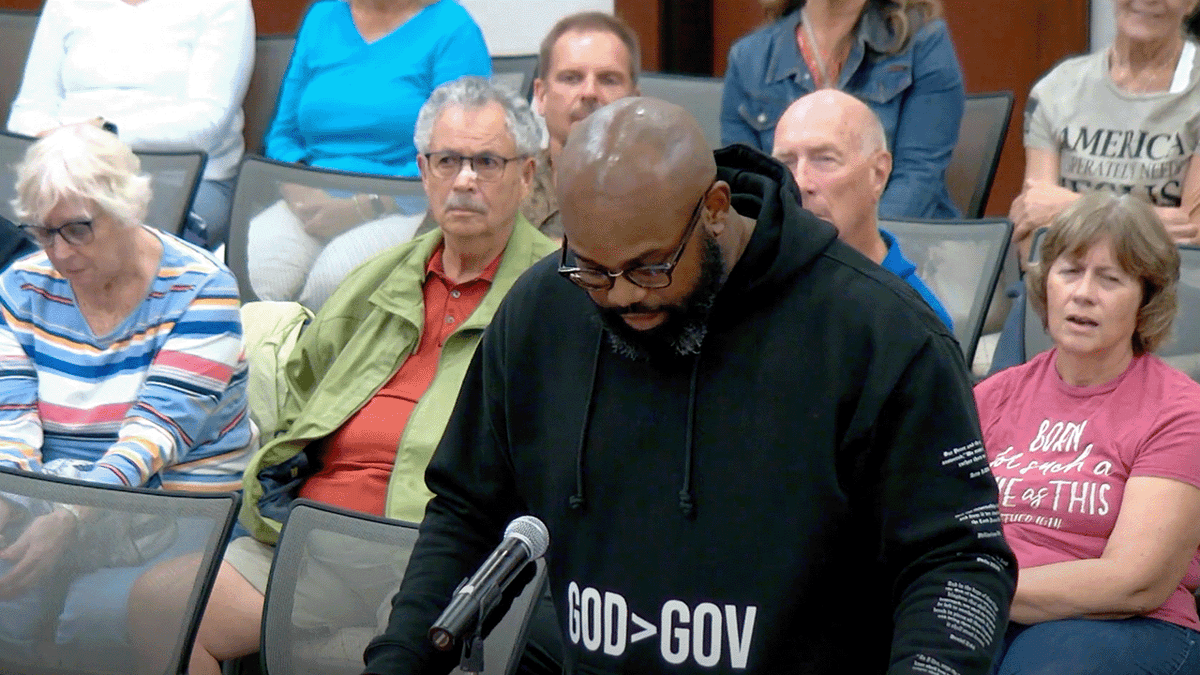 Pastor John K. Amanchukwu Sr. read a passage from the book "13 Reasons Why" that described adolescents discussing sex acts. (Screenshot/School District of Indian River County)
"We are adults and if there are children out there. I understand that. I understand that. But we don't want to be reading that aloud," Indian River County School Board Chairwoman Dr. Peggy Jones told the parent.
"Even with the first letter, this is really graphic. And we have a rule here. Nothing obscene. We haven't heard the actual words but I think we've heard enough," Indian River County School Board member Jacqueline Rosario said to another parent.
Rosario, speaking with Fox News Digital, noted that she was the only board member that voted to remove the books read at Monday's meeting back when they first voted on the issue in 2022. She also claimed that board members chose to ignore laws (Fl. St. 847 and 1006.28) on pornographic, obscene, or sexually explicit content by making the books available in school libraries.
"The difference now is, HB 1069 has allowed parents to read explicit books at board meetings. And if they get shut down, then the book is immediately removed. This is a good thing," she added. "It is the litmus test for acceptable age appropriate and standards driven library books. If you can't read them at a board meeting, then you can't have them in our schools. All that is needed now is for a "passage" to be read and the book can be removed immediately. The superintendent and board members refused to acknowledge the gross content made available to kids until now. Finally, they don't have a choice. It's about time the truth be made known. Explicit, sexually graphic, pornographic, and obscene material does not belong in any school."
While it is unclear how many books were removed, dozens of people read passages from different books.
The unanimous motion from the board called to "have the books removed that were read — which either had to be stopped or given a warning — to be removed immediately."
The board further stipulated that the books would be removed "as long as there's verification that what was read was actually in the book that is on the shelves."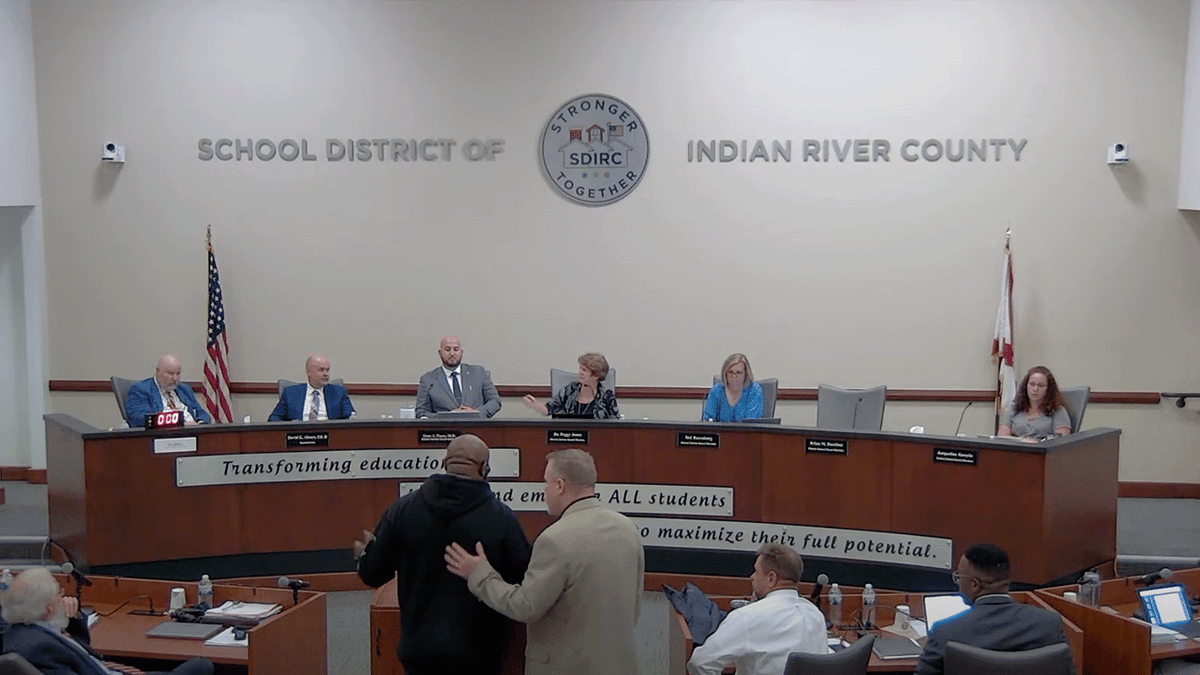 Pastor John K. Amanchukwu Sr. was removed from the podium by security after being told by a school board member to stop reading. (Screenshot/School District of Indian River County)
Some board members were frustrated with how citizens at the meeting conducted themselves, according to CBS 12 News.
"You could just pick up the phone and call the superintendent and say, 'Hey, here's an excerpt from this book. And let's get it taken care of that way because things have changed,'" Vice Chair of the Indian River County School Board Teri Barenborg told the news outlet.
In a comment to Fox News Digital, the School District of Indian River County (SDIRC) said the board listened to the community and unanimously voted to take "bold" and "swift" action to remove the books.
"Our Board Chairman, Dr. Peggy Jones, upheld the individuals' First Amendment rights while at the same time providing warnings regarding content. All Florida school districts are currently awaiting the dissemination of the list from the FLDOE with materials that were removed or discontinued as a result of an objection during the 2022-2023 school year," Cristen Maddux, a public information officer with the Office of the Superintendent, said.
The parental rights group Moms for Liberty pushed the effort to remove the books. The group's Indian River County Chapter chairwoman, Jennifer Pippin, told Florida Voice she was "happy" with the decision but "disappointed" in board members who "made us challenge these books twice" for two years.
Pippin said the group plans to challenge more books that are currently listed on the district website, including "Tilt" by Ellen Hopkins, "Homegoing" by Yaa Gyasi, "Collateral" by Ellen Hopkins and "The Assassin's Blade" by Sarah J Maas.