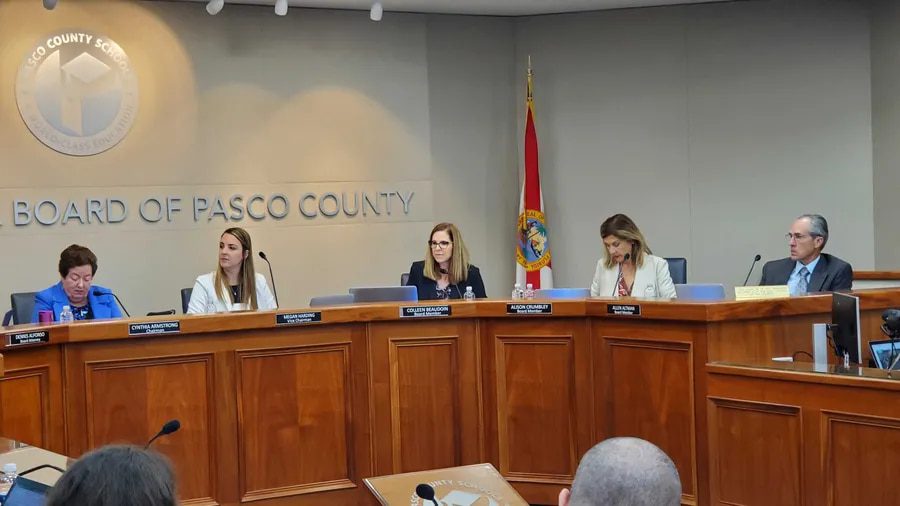 Pasco School Board adopts $1.8B budget with tax rate decrease
The spending plan includes raises for all employees and some major construction projects.
Tampa Bay Times | By Jeffrey S. Solochek | September 13, 2022
Pasco County property owners will see their school tax rate decrease for a ninth consecutive year, even as the school district's budget grows by 22%.
The School Board on Monday approved a $1.8 billion spending plan that reduces the local property tax rate to $5.52 per $1,000 of taxable value. The rate was $5.81 per $1,000 a year ago, and $7.37 in 2013.
Much of the new money coming to the district reflects an increase in state per-student funding, along with a projected enrollment growth of nearly 3,600 children. The Legislature also boosted the amount of revenue available for teacher salary raises.
At the same time, the Legislature established that property owners would not see spikes in their local taxes as property values jumped close to 19%. The owner of a $175,000 home with a homestead exemption would see their school tax bill drop $44.10.
Within the budget, the board set $850 million for general operations. Officials said much of the spending was determined by state requirements for the money, along with fixed costs such as utilities and rising expenses including higher retirement contributions.
At the same time, superintendent Kurt Browning said, the district was able to meet priorities such as focusing on programs to accelerate student achievement and providing all employees with raises of at least 5%. The board separately approved agreements implementing the pay hikes on Monday.
The budget also includes $534.6 million for capital projects, such as construction and improvements. Major initiatives include rebuilding Gulf High School, which celebrates its 100th anniversary this year, and development of a new K-8 school in the Kirkland Ranch area of east Pasco.
Music teacher Fai Fai Ho thanked the board for its transparency in developing the budget, noting that the board has little control over much of the spending it incurs. He lamented that the state has established a model that requires schools to fail before receiving the financial supports they need, and raised hope that the district will continue in the "right direction" with its efforts to pay employees competitive wages.
Voters in August approved a local-option property tax to put more money into non-administrative salaries. That revenue stream will be part of next year's budget.
Also on Monday, the School Board named its new east county middle-high school the Angeline Academy of Innovation, after the community where it is rising.
In addition, board members approved an agreement with Dayspring Academy to build a charter school in the Angeline area on district-owned-property, along with joint use of athletic facilities. The charter school is expected to partner with the Academy of Innovation.