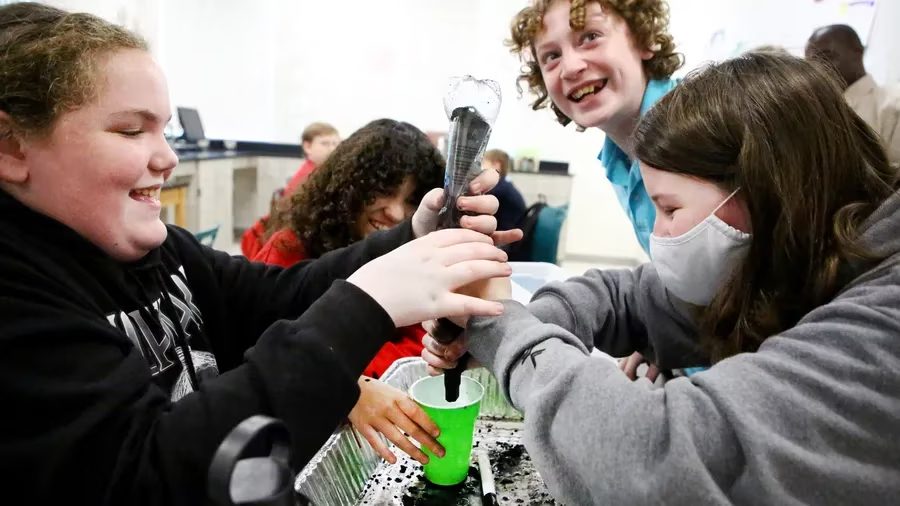 Pinellas is working on a problem: 'How to get middle schools right'
Tampa Bay Times | By Jeffrey S. Solochek | February 14, 2023
With enrollment down, test scores lagging and families dissatisfied, a "mindset shift" is underway in sixth, seventh and eighth grades.
Pinellas County has a middle school problem. Superintendent Kevin Hendrick is the first to admit it.
Even before he won the district's top job, Hendrick prioritized improving the way sixth through eighth grades get taught. Since taking the post, he assigned his top deputies to fashion a better approach.
Among his concerns is that district middle school students do not perform as well on state exams as do elementary or high school students. Middle school enrollment has declined districtwide by about 2,500 students over five years. And students are saying they feel disconnected from school.
"We haven't quite figured out how to get middle schools right," Hendrick said.
After months spent listening to parents, students and teachers about their concerns, and consulting with experts about successful efforts elsewhere, the district has started rolling out its initiatives at a handful of test sites. Deputy superintendent Stephanie Woodford said the plan is to phase in the ideas over time, ensuring they're implemented well rather than quickly.
"What we're trying to not do is go down the road and then have to back up," Woodford said.
By fall, every middle school should have at least some of the concepts in place, said chief academic officer Dan Evans.
Pinellas Park Middle is one of the schools leading the change.
"It's a mindset shift for not just teachers, but for students as well," principal Jason Shedrick said.
The school is participating in a trial run of project-oriented science lessons in conjunction with Innovation Foundation, a nonprofit that preparesstudents and teachers for technology changes and emerging problems. In addition, teachers are inviting more participation from students during civics lessons, and physical education classes are more interactive using the TB12 program developed by former Bucs quarterback Tom Brady.
A focus on collaboration and real-world assignments aims to make courses more meaningful, Shedrick explained.
The school is also in the process of adding extracurriculars, such as robotics and intramural sports, to give kids a reason to come beyond the classroom.
"We've got to try some different things," Shedrick said. "They're trying to live on the cutting edge of what interests students."
He offered as an example the "Student Voice, Student Choice" model being used in eighth grade civics. Teacher Karen Midkiff led her class through animated discussions about speech issues as part of a broader conversation aboutcivic rights and responsibilities.
Rather than have them read and discuss textbook passages from their seats, Midkiff read aloud prompts from real situations, such as the Pennsylvania teen who was suspended from cheerleading after ranting about her school on social media.
The case went to the U.S. Supreme Court, which sided with the teen. Midkiff had her students conduct a "respectful dialogue" about the scenario, in which they took stands and tried to sway classmates.
Eighth graderAngelina Kraemer was enthusiastic about the model.
"I feel like these types of activities help to include people who don't always participate," Kraemer said. "Everybody has a chance to show their point."
The school also features a sixth grade science course based on trial and error projects. Students in Brian Walters' classroom broke into small groups, where they attempted to filter dirty water using charcoal and cotton as part of a larger lesson on water purification and water cycles.
They chattered and laughed as they attempted different setups, some getting clear water and others making it blacker than before. The students said they enjoyed the way Walters presented the lessons and the chance to see for themselves what works.
The group of Kelvin Brooks, Lucas Duarte and Dakotah Graska struggled to keep the charcoal from infiltrating the water. They refused to give up, even as time wound down on the class period. The boys said they appreciated that Walters reviewed them based on their science rather than just their results.
"It's kind of fun," said Lucas, who called the class his favorite. "I want this to work so bad."
Walters said the approach revived his love of teaching, too. He had been talking about retiring.
"There's an openness to let science classes do it rather than just read about it," Walters said, noting his disciplinary issues have dropped to almost none. "This is how you do it. … It made me stick around."
News of the district's effort to make better middle schools appealed to parents who have taken their kids out because of the problems they experienced.
Kathy Evans said her daughter Gwen's brief time at Tyrone Middle School was marked by chaos. The staff went through high turnover that wasn't communicated to families, she said. The students were poorly behaved, she added, and no one seemed able to handle it.
"She was like, 'The kids are out of control. I'm not learning anything because the teachers are so busy telling kids to behave,'" Evans said.
Superintendent Hendrick has said improving discipline is a key part of his middle school reform plan.
Evans moved her daughter to Florida Virtual School, with plans to return to the district for high school.
"She misses her friends," Evans said. "But for the most part, she feels like she's learning something."
Stephanie Cox said her son Finn was unhappy at Thurgood Marshall Middle, for many of the reasons the district has targeted to improve. The school was out of control with fights, she said, and itdidn't offer anythingto make him feel connected.
"There was nothing special keeping us there," Cox said. "The teachers were great, but we feel the teachers at (Florida Virtual School) are just as great."
When Finn moved to Florida Virtual, Cox said it gave him time to enjoy outside activities such as sailing while also helping him become an independent learner. She hopes the reforms being contemplated will create a better experience for others who follow.
She said the district should work to keep teachers from leaving, and make the sixth-grade transition more gradual, "rather than just throwing them to the wolves."
Evans, the district's chief academic officer, said those ideas and more are in the works.
Schools are working on a bell schedule that has sixth graders switch classes separately from the older students to make the move less overwhelming, he said. Related to that, the schools are looking for ways to team teachers so they work with common sets of students and can better attend to their needs.
In addition to reformatting classes to make them be more collaborative and hands-on, Evans said, the district is pushing for more ways to engage students nonacademically. That means clubs, field trips and sports, among other possibilities.
With these types of changes, Evans suggested, middle schools should become less problematic.
"We want our middle schools to be places our students want to go to," he said. "I think we can find a balance between rigorous learning and fun experiences."