Requests for school vouchers nearly double in districts around the greater Tampa Bay region
WUSF | By Nancy Guan | August 10, 2023
Voucher awards in Hillsborough County increased from almost 11,000 to nearly 19,000. The uptick mirrors state trends and is concerning some public school officials who believe that state funds should stay within the public school system.
The number of students requesting universal school vouchers in the greater Tampa Bay region has nearly doubled compared to last year.
These vouchers, or scholarships, are used to pay for private school tuition and other education-related needs meant to broaden school choice for families.
The voucher program was previously restricted to a certain number of students who fell under an income threshold. But in March, the passage of HB1 expanded the program to include all students regardless of household income — though, the law states priority will be given to families whose household income falls below 400% of the federal poverty level.
The average amount that will be awarded for private school scholarships is $7,800, according to Step Up for Students, the non-profit distributor that administers most vouchers in the state.
Other types of scholarships include a $750 minimum transportation scholarship for students who want to attend a school that is a better fit than the one they've been assigned. A limited number of scholarships for homeschooled students are also available.
Increase in voucher awards already starting
As a result of the expansion, county school districts in the Tampa Bay Region have seen voucher award numbers increase and nearly double in some cases.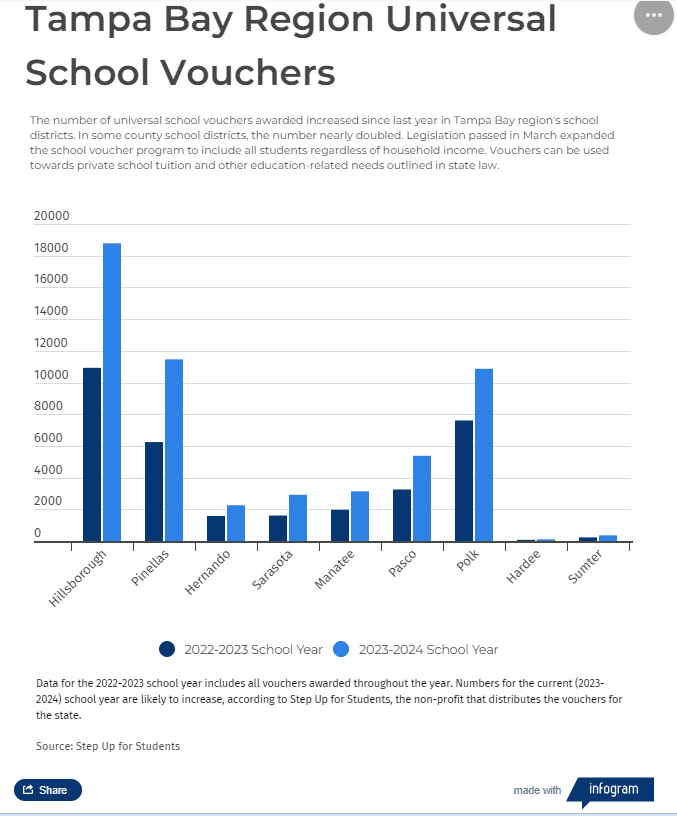 In Hillsborough County, the number of voucher requests has surged from 10,927 last year to 18,784 this year.
Pinellas County saw its voucher requests increase from 6,242 to 11,434.
And Scott Kent, spokesperson for Step Up for Students, said that voucher awards are expected to increase as the school year continues.
However, he said, it's also important to note that not every student who receives a voucher will end up using one.
Some families can't find a preferred private school near them or their preferred private school doesn't have an open spot. Others get into a charter school they've been waitlisted for or they decide they'd rather attend a public school.
Students who are already attending a private school can also apply for and receive a scholarship.
The non-profit distributor expects to serve 350,000 scholarship students this year, an increase 100,000 from last year.
Opponents fear voucher expansion means fewer funds for public schools
The increase in voucher distribution is mirrored across the state, causing concern among public school officials, who believe that the state funds being used for these vouchers should stay within the public school system instead.
"The voucher program is certainly robbing public schools of the funding that we haven't been getting for well over 20 years in Florida," said Rob Kriete, President of the Hillsborough Classroom Teacher's Association.
Kriete served as an English teacher in the Hillsborough County School District for 24 years. He points out that enrollment has fallen in the past several years. Statewide data shows enrollment in Hillsborough's public schools has fallen since 2018. It's a trend that Kriete fears will be exacerbated by the voucher expansion.
School budgets rely largely on student enrollment. Since districts receive an allotted amount of state funds for each student — or a base student allocation — when enrollment numbers drop, so does district funding.
"We get about $8,000 per student — And, quite frankly, that's woefully low for what we can do and should do," said Kriete.
But, now, if a student chooses to attend a private school, that $8,000 is going to follow them there, Kriete said.
The average private tuition cost in the Tampa Bay area is close to $10,000. Those on the higher end of the scale can cost around $20,000.
Doug Tuthill, president of Step Up for Students, argued that voucher expansion increases opportunities for families.
"It's giving families way more ability to customize the education that meets the needs of each child. It's no longer a 1920s, one-size-fits-all education system," said Tuthill. "This money isn't going to private schools, it's going to families and they can choose how to spend that money."
Still, Kriete said the expansion has widened the door for public funds to be "siphoned" into private institutions, which follow a different curriculum and aren't held to the same standards as public schools.
"The public school system is open arms, we take all of the students, we want to do everything we can to meet their needs, and to make them productive citizens," said Kriete.
Other states including Iowa, Utah and Arkansas have adopted universal school vouchers as well. Arizona was the first to implement such a program.
Arizona's Empowerment Scholarship Account program is predicted to cost taxpayers $900 million this upcoming school year, more than what lawmakers originally budgeted for.
The Florida Policy Institute, a non-partisan research and policy organization, estimated in March that the price tag for the voucher expansion would cost around $4 billion.
Step Up for Students' Tuthill said $4 billion is an overestimation, and that the state has properly budgeted for the expected 350,000 students who will use their vouchers.
More than 2.8 million students are enrolled in Florida's 69 school districts.
School officials said the true impact of the universal voucher expansion will become more clear this fall, when official enrollment numbers are in.