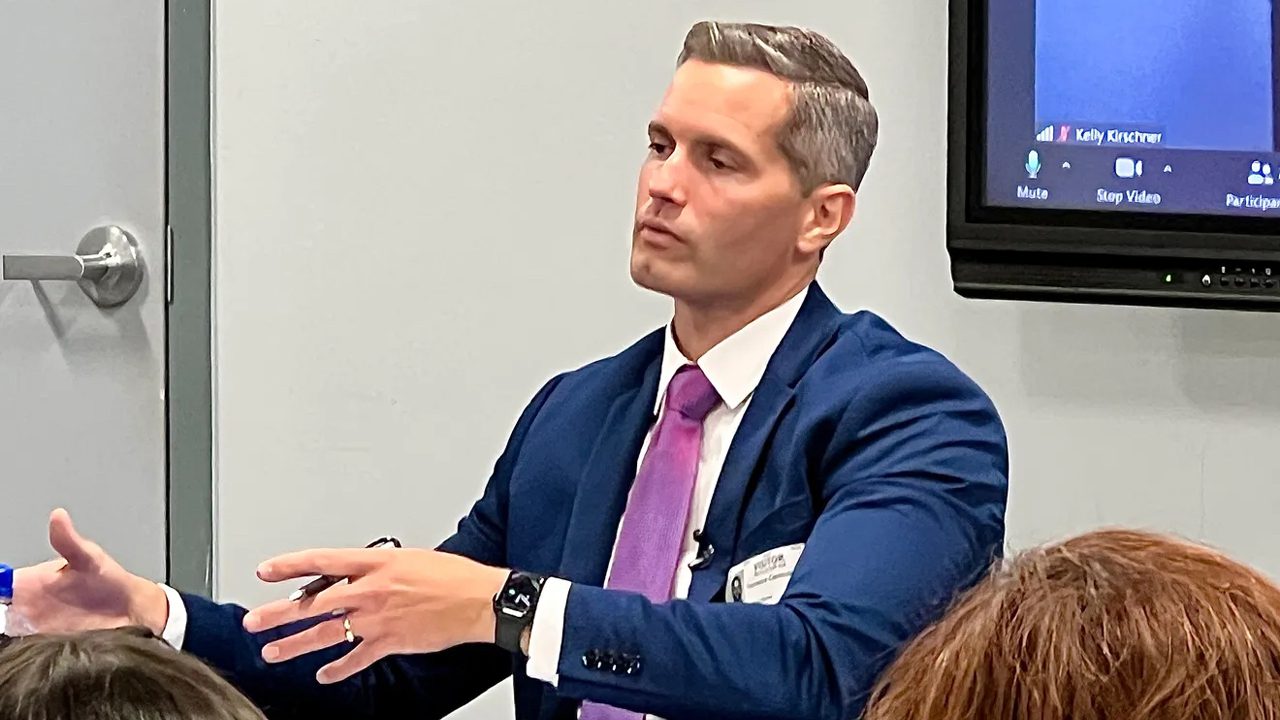 Sarasota superintendent candidates meet with public advisory committee ahead of board vote
Herald-Tribune | By Steven Walker | June 13, 2023
The four finalists for Sarasota County Schools' superintendent vacancy took questions from a public panel appointed by the School Board Monday as the search for the district's next leader neared the end.
Terrence Connor, the board's early favorite candidate from Hillsborough County, Josiah Phillips from Broward County, current Sarasota Interim Superintendent Allison Foster and Charles Van Zant of Clay County − who carried the endorsement of former President Donald Trump's controversial first national security advisor − took questions from the 15-member committee for more than an hour each.
The candidates were asked about how they would handle certain situations in the district, their philosophies on improving achievement and specific questions regarding their backgrounds, among other questions.
The session came the day before the School Board was scheduled to interview the candidates, followed by a final selection on Wednesday.
Terrence Connor
Connor, the deputy superintendent and chief academic officer in Hillsborough, started his interview by emphasizing a blue-collar upbringing and his rounded approach to leading a district. Asked how he would handle the relationship between a superintendent and school board members, Connor said he believes in the separation of powers, where he would run the day-to-day and handle staffing while the board sets policy.
Concluding his time, he addressed concerns about his wife's involvement with McGraw Hill and her departure from Hillsborough County Schools amid an investigation into testing practices.
He said any accusations made against her are unsubstantiated and false, and that she had left public education because of his own aspirations to be a superintendent. Connor added that he didn't believe it would be appropriate for his wife to be working in the district if he were the superintendent.
Committee member Elwira Kulawik asked Connor how he'd ensure the safety of all students of all backgrounds in Sarasota County. He said ensuring the district's teachers and staff are mental health-trained to identify signs of potential problems is key.
We've got more work to do," Connor said regarding whether all district students feel safe mentally and physically in schools.
Connor addressed his candidacy for Osceola County's superintendent position, for which he interviewed on June 5. He said "with confidence" that he'd prefer to be in Sarasota County.
Connor described himself Tuesday to the members of the School Board as a "systems leader" who had a record of improving achievement in school districts.
"I'm going to bring that systems-level approach," he said. "I'm someone who is able to look at the big picture, but also understand the details and the initiatives and the timelines and the structure that's required to ensure there's a level of accountability throughout the system."
Charles Van Zant
Van Zant, a former superintendent in Clay County Public Schools, opened the panel discussion by highlighting his military service and time working on a school board.
In the packet he handed to members of the committee, he included an endorsement letter from Flynn, who has become deeply involved in national and local right-wing politics in Sarasota County.
Sebastian Girstl, a rising junior at Riverview High School, asked Van Zant what a "pivot," as Van Zant has described it, would look like for the district under his leadership. Van Zant discussed an evaluation period upon entering the position and said he wanted to look into why an achievement gap exists between white and minority students, and which programs need to be eliminated or retained.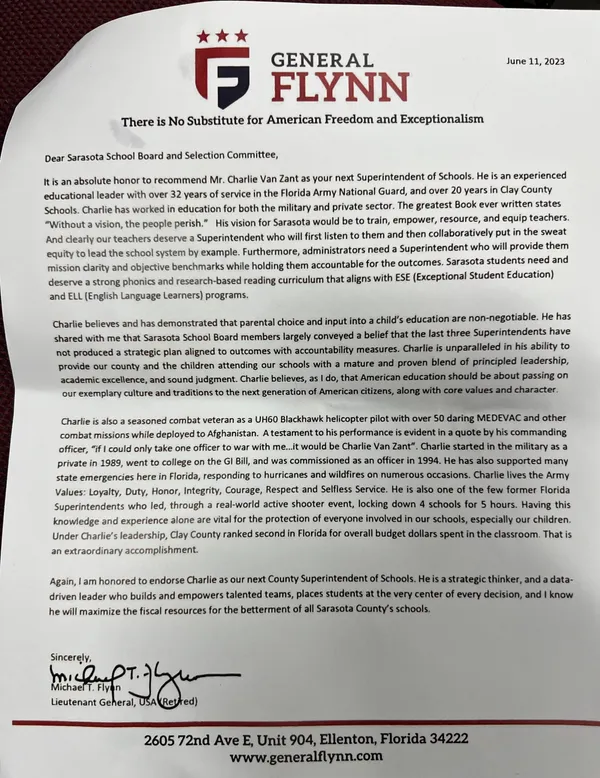 Van Zant emphasized his support for phonics-based reading plans to teach elementary students, which he said the district doesn't use fully. He added that he's a strong proponent of pre-kindergarten programs, and suggested the district could allocate more money to establish centrally-located Pre-K programs to boost reading proficiency.
"Along the way, it became acceptable in public education in Florida and lots of other places to sit a struggling reader in front of a computer or an iPad and think that 's going to teach them how to read," he said.
As some in the public felt a disconnect with the School Board's decision to terminate the previous superintendent, Mydahlia Glover asked Van Zant how he planned to build trust with teachers and staff. He said he planned to attend community events, engage with community leaders and establish roots in Sarasota. He also gave his personal cell phone number during the meeting, inviting the committee and the public to reach out.
To the School Board members on Tuesday, Van Zant described himself as a servant leader. He gave an example of breakfast meetings he would hold, and how he and other district staff would cook and serve the food, then proceed to eat last to ensure the staff had enough.
"I would say my most ardent opponent ever in my life would not tell you they didn't trust me," he said.
Allison Foster
Foster, the district's current interim superintendent, emphasized her time in Sarasota County as a teacher, principal and then district administrator. Being a product of Sarasota County Schools herself, she also pointed out that she's only been out of school administration for about two years, and would be able to hit the ground running if she were hired as superintendent.
"We don't need to tweak things, we need to completely change how we approach instruction," Foster said.
Foster provided a packet to the committee with a three-phase transition plan including how she would position the district to immediately implement her vision. During the question-and-answer section, she discussed student achievement and how the district needs to go "back to the basics" with phonics learning to close the achievement gap and increase reading scores.
Former Sarasota School Board member Eric Robinson asked Foster why she wanted the position, given the pressure and scrutiny that a superintendent in this area receives. Foster highlighted her experience in the district as a principal, and said she loves Sarasota County Schools because it's been her "whole life."
"I am fully committed to this district. So if I get the job, I feel that I can move us in that right direction," she said. "I'm not looking to go anywhere else. I'm fully committed to the community. I'm fully committed to the students, the parents."
Later, addressing the School Board members, Foster said she had the right "vision" to lead the district. She cited growth at Phillippi Shores IB School, where she served as principal, as evidence of her ability to lead Sarasota Schools.
"I can do that same thing with the district as far as providing that clear vision of the direction of where we want to go, which is to be the premier school district in the state of Florida," she said.
Josiah Phillips
Phillips, the chief information officer for Broward County Public Schools, found a new purpose in life through education following his medical retirement from the Army, he said. He framed himself as a problem solver with experience leading other districts in Kansas City and Broward County to successful learning gains.
Phillips characterized Sarasota County Schools as a "tale of two districts:" one where it's advertised as an A-rated school district and performing well, and the other where test scores needed to improve and achievement had stagnated.
He said the district should not be looking at exception education students through a "deficit lens," but rather empowering parents to understand the learning process and engage the district to ensure their student is receiving the right education for their situation.
"It's not every student, it's each student," Phillips said.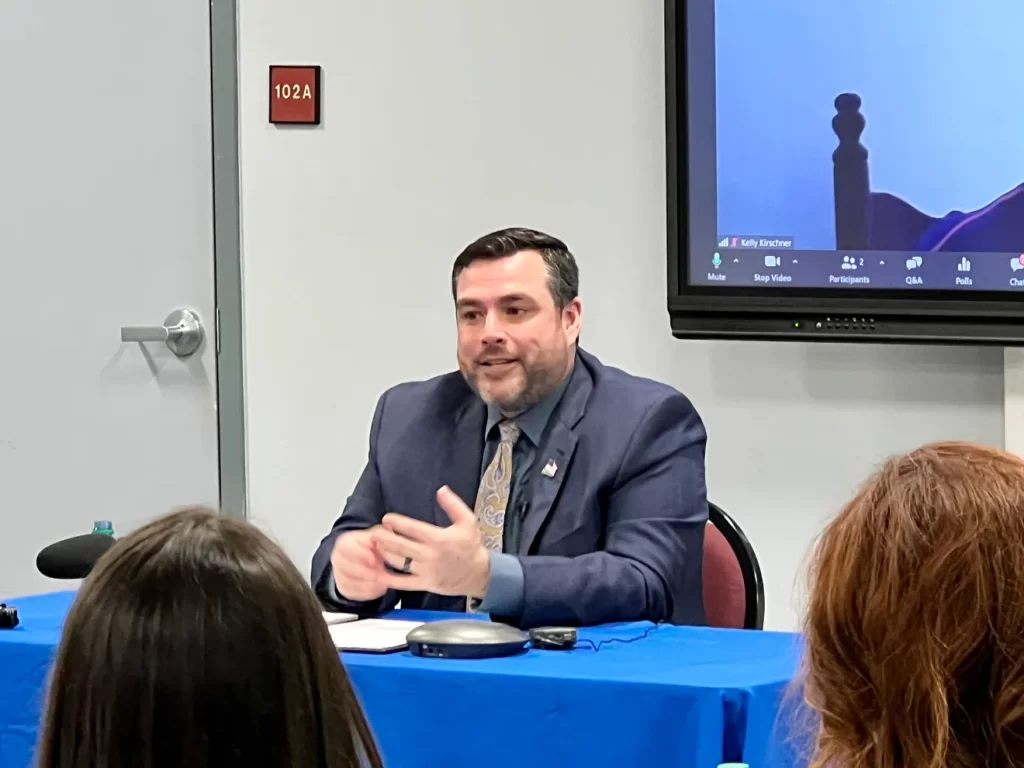 Valerie Kammermeier asked Phillips if he supports the use of digital literacy programs and teaching reading over computers. He said programs such as the district uses to teach reading can be useful as long as it does not replace an in-person instructor such as a teacher.
During one of his answers regarding the accurate teaching of history in classrooms, Phillips referenced Florida's grappling with AP African American History and said it turned into a political issue. He emphasized that he would always follow state statutes, and there should be a way to teach history accurately without infringing on parental rights and values.
"None of these pathways that we just discussed are more important than the other because they all apply to students differently," he said.
Coming from Broward County, Phillips was asked about what the district had learned since the shooting at Marjory Stoneman Douglas High School in 2018. Phillips emphasized interoperability, or different systems working together, and said he's a strong believer that every district should have a security operations center that monitors threats across the district.
Robinson asked Phillips about his lack of K-12 classroom experience, and Phillips responded by pointing out his higher education experience. He also said that he's always been a supporter for classroom teachers through his time in district leadership and that his lack of classroom experience gives him a different perspective and fewer bad habits.
Phillips closed with commentary on accountability and relationships with the school board where he said that he couldn't be bought in the inside politics of school districts.
"I don't do deals, and I'm too big to fit into anyone's pocket," he said.
During his meeting with the School Board, Phillips said he was the best fit for Sarasota County Schools because he perceived a need for operations-based change, which he said his military and information technology background suited well.