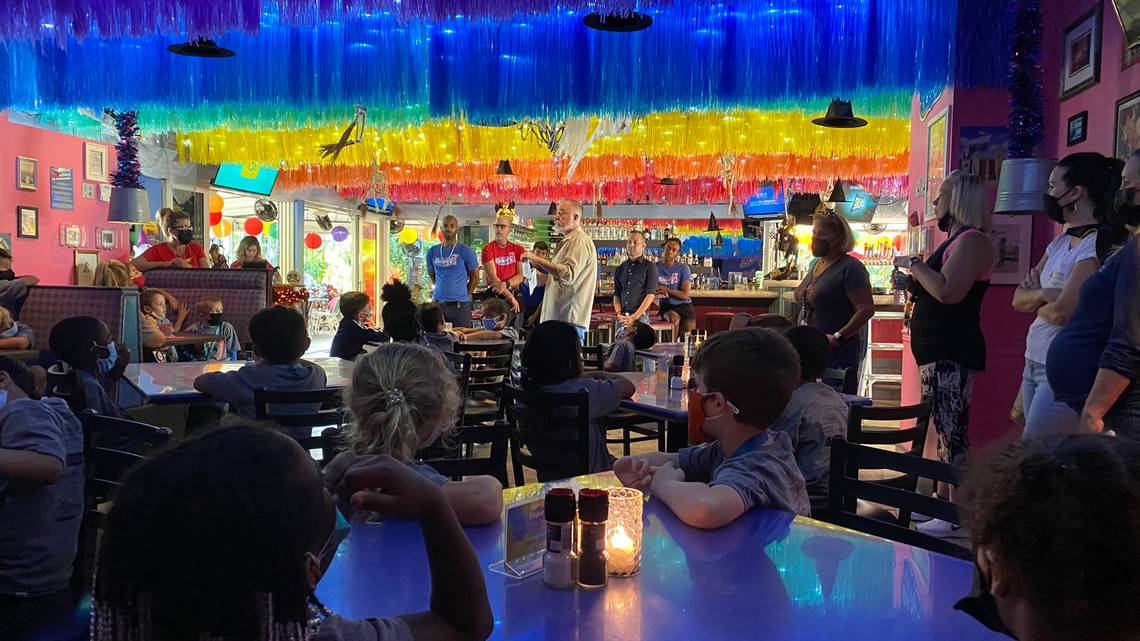 Schoolkids got a trip to a bar with a 'Miley High Club' on the menu. Then came a social storm
Miami Herald | By David Goodhue | October 28, 2021
What happens when a School Board member takes elementary kids on a field trip to a bar and grill with a gay clientele?
A Twitter storm
Broward District 3 School Board Member Sarah Leonardi, also a high school teacher, posted pictures on Twitter Wednesday night after chaperoning a Wilton Manors Elementary School field trip lunch to Rosie's Bar and Grill on Twitter.
She soon found herself in a social media maelstrom that included the governor's press secretary.
While Rosie's Bar and Grill in Wilton Manors serves everyone, of course, its menu can be a little risque. The description on the menu for the "Left One" chicken breast sandwich, for example, is "'Cause sometimes the left ones are bigger!" Then there are the "Rhoda Cowboy," "Miley High Club" and the "Young Ranch Hand."
"I was SO honored to be invited to chaperone @WiltonManorsES's field trip to the incredible Rosie's! The students and I had a fun walk over and learned a lot about our community! A huge thank you to @RosiesBnG for hosting this special field trip every year!"
The post was bombarded with negative comments almost immediately, and the angry responses showed no sign of easing Thursday.
"This is just wrong on so many levels! Then telling the world that you did it! It is an indicator of just how much reform is needed in schools and school boards," a poster named Theresa Hauck wrote.
News of the trip was also reported by several conservative media outlets, including Fox News.
Leonardi told the Miami Herald that she stands by the decision to participate in the field trip.
"As a School Board member, I am committed to staying engaged with my community. I'm always proud to join classes for field trips and events, especially when our schools are connecting with the vibrant small businesses in my district," she said
Since making the post, Leonardi said she and her family and friends "have been attacked with bigoted comments and death threats."
"These attacks have no place in our society," she said. "The threats have been referred to the appropriate authorities, and I will continue to work hard to engage with my community, spread positivity, and represent my district on the School Board."
Wilton Manors principal Melissa Holtz did not immediately respond to questions and requests for comment on the field trip.
One of the owners of Rosie's Bar and Grill in Wilton Manors said he's confused what all the fuss is about — especially since children from the school have been coming to the restaurant for field trips for about 10 years.
"It's a great experience for the kids to come in and learn how restaurants operate," John Zieba said.
He said the educational value is in the children not only learning math skills from the prices on the menu, but also to see what kitchen managers, chefs and servers do for a living.
"Everything's just been blown way out of proportion for ridiculous purposes," Zieba said.
Since Leonardi posted her tweet, Zieba said the restaurant has gotten phone threats from area codes outside of the Fort Lauderdale area.
Many of the well-over 200 comments to Leonardi's post were from people upset that the Wilton Manors Elementary students were taken to a gay establishment.
"Taking children to a gay bar? What the hell is wrong with you people? You're an absolute disgrace," said a poster named Jason Jones.
Zieba said that is a mischaracterization of Rosie's. Although the majority of his customers are LGBTQ, the restaurant serves anyone who sits at the table or bar.
"We welcome everybody. Every race, color, creed or ethnicity," he said.
One of the people weighing in on Leonardi's post was Christina Pushaw, Gov. Ron DeSantis' press secretary, who has openly clashed with political opponents and the media since the governor hired her in May. The Broward County school district is one of two sanctioned by Tallahassee for defying DeSantis' ban on mandating students wear masks in the classroom., which Pushaw referenced in her tweet.
"Broward School Board member takes little kids to a gay bar on a field trip, forcing them to wear masks "to keep them safe," Pushaw wrote on a Twitter post Thursday morning.
While the majority of the responses to Leonardi's post were critical of the field trip, others defended her.
"Just making sure you've never brought children to Applebee's, TGIF Friday's, Outback, or Chili's. Because methinks the issue isn't that there was a bar at the grille," wrote Emma Collum, a Broward County attorney.
Andre Menotti, an attorney based in Los Angeles, took issue with critics focusing on Rosie's clientele.
"People are acting like the manager served the kids a round of stiff mojitos and then talked about gay sex. This is ridiculous," he responded on Twitter.
Zieba said he's disappointed that what he and his staff consider an innocent and educational field trip has attracted so much negative attention.
"In the end, they ordered some food and colored a pumpkin."