Miami Herald | By Sommer Brugal | Updated July 21, 2022
In a narrowly divided vote, the Miami-Dade School Board Wednesday reversed its decision to adopt a new sex education textbook for the 2022-23 school year — a move that leaves the district with no sexual education curriculum for at least four to eight months.
The 5-4 vote followed an emotionally charged public comment period that included community members being escorted out of the building and a multi-hour board discussion that strongly paralleled the discussion it previously had in April, when members initially adopted the material in a 5-3 vote.
At the time, Chairwoman Perla Tabares Hantman, Marta Perez and Mari Tere Rojas voted against the curriculum. Board member Lubby Navarro was absent from the initial vote.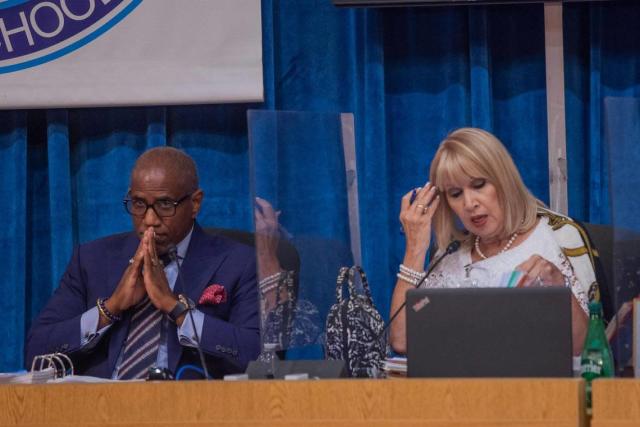 On Wednesday, Tabares Hantman, Perez and Rojas were joined by Navarro and Christi Fraga in voting against the measure. Vice Chair Steve Gallon, along with Dorothy Bendross-Mindingall, Lucia Baez-Geller and Luisa Santos voted to adopt the book.
The book, "Comprehensive Health Skills," which comes with a version for middle school and one for high school classes and offers research-based health education with topics such as nutrition, physical activity and sexually transmitted diseases, would have addressed the district's units of study for Human Reproduction and Disease Education for grades six through 12.
But the materials soon came under fire from some parents and community members who argued the lessons were not age appropriate and violated the state's parental rights law, which Gov. Ron DeSantis signed into law in March and which critics have dubbed the 'Don't say gay' bill. They also argued the district's process lacked transparency.
DOTRES' APPOINTEE SAID BOARD SHOULD ADOPT THE BOOK
The pushback included the filing of 278 petitions objecting to the materials and resulted in Miami-Dade Superintendent José Dotres selecting a hearing officer to conduct a public hearing to review the concerns and the materials in question.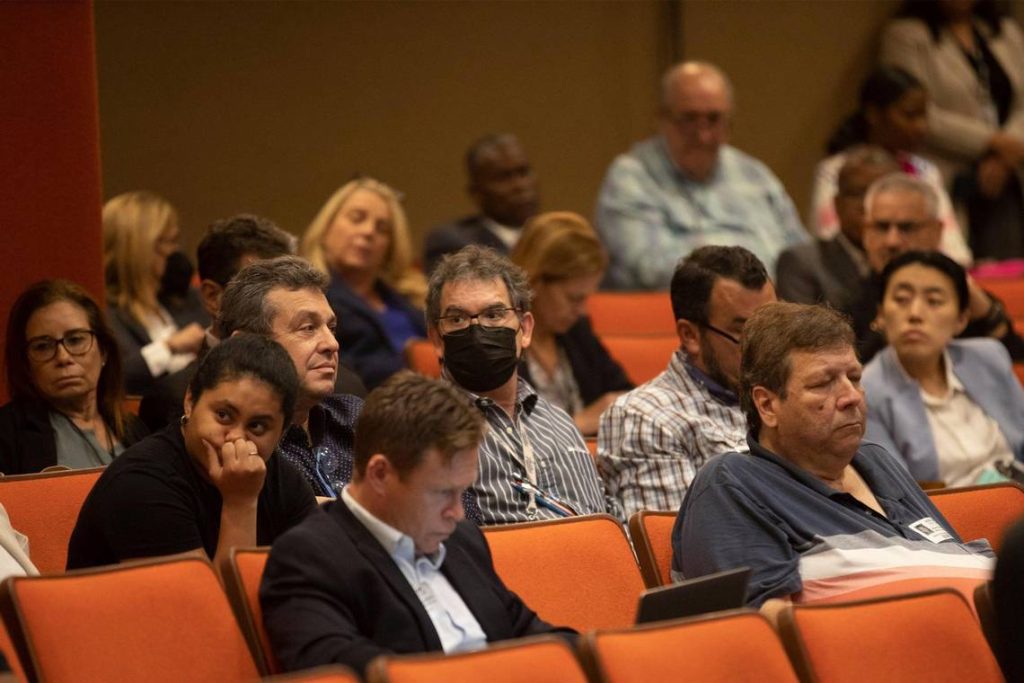 That hearing, which was conducted on June 8, resulted in the hearing officer recommending the board "deny the petitions and proceed with the adoption process," according to the district.
This is not the first time school textbooks have been questioned. Earlier this year, the Florida Department of Education announced it was rejecting 54 math textbooks in the state's public schools, claiming the books contained "prohibited topics,'' including critical race theory.
"I'm deeply disappointed by today's decision. I hoped that Miami's School Board would step up to protect youth in times of crisis," said Kat Duesterhaus, a board member of Florida NOW and Miami Coalition to Advance Racial Equity.
Not only does providing comprehensive sexual education help prevent sexually transmitted diseases, sexually transmitted infections and unwanted teen pregnancy, it's also important to "building bodily autonomy," which is important for teens to prevent and identify instances of sexual assault, Duesterhaus said.
"We need to equip youth with the ability to navigate their own bodies and consensual situations," Duesterhaus added. "We're leaving them ill equipped to have agency of their sexuality and bodies."
MOST CITE 'URGENT' NEED FOR SEX EDUCATION
For those who opposed the adoption, the content under question was either inappropriate or "not scientifically factual," such as vaccinations being the only proven method from viral disease, a notion they would challenge, Alex Serrano, the county director for County Citizens Defending Freedom, told reporters before the meeting Wednesday.
Serrano has no children in the district and sends his children to Centner Academy, the Miami private school that last year said teachers and students who got vaccinated for COVID-19 could not interact with students and would risk losing their job.
"We are not against sexual education or human reproduction and sexual education books," Serrano said. "We are for statutory compliance and age appropriateness in the content … and compliance with parental rights law."
Discussions regarding gender ideology "do not belong" in the books. "That is ideology," he said.
Others who spoke against the adoption also cited their contempt with the books' discussion of gender identity and sexual orientation as reasons to oppose the materials. But in the board's decision in April, members agreed to remove the chapter called "Understanding Sexuality" from both middle and high school textbooks, which would have discussed those topics.
MAJORITY OF PEOPLE WHO SPOKE WANTED BOARD TO ADOPT THE BOOK
More than 40 people — parents, students and community members — signed up to speak on Wednesday. Of those, 38 asked the board to adopt the recommendation given by the hearing officer, according to Vice Chair Steve Gallon III's count. Just four urged against doing so.
"That's 90% of the speakers that spoke today. You do the math," he said on the dais. "That data for me provides a greater opportunity to debunk and denounce this narrative that there's this broad opposition to the board's adoption of these materials."
Most people in favor of the textbooks cited the urgent need to provide this information to students. Some pointed to research that found students who receive quality sexual health education choose abstinence longer and have fewer rates of unplanned pregnancies. Others said the materials provide a safe environment for students to learn factual, scientific information and give them the understanding to prevent instances of sexual violence.
Former students also spoke, pointing back to their experiences in Miami-Dade schools and how a better sexual education curriculum could have helped them understand more about sexual health.
Maxx Fenning, president of PRISM Florida, an LGBTQ+ nonprofit that provides access to LGBTQ-inclusive education and sexual health resources for youth, said comprehensive sexual education "saves lives."
After citing statistics such as "young people ages 15-24 make up 25% of all new HIV infections in the U.S.," he said comprehensive sex education gives young people the "tools they need to protect themselves if and when they decide to be sexually active."
The reality, he and others said, is that should this information be withheld, many students will inadvertently turn to the internet and social media for their information.
BOARD MEMBERS SAID THEY RECEIVED EMAILS OPPOSING THE BOOK
Despite the turnout being mostly in favor of the textbooks, some board members, such as Fraga and Rojas, who rejected the materials, said counting the participants who attended the meeting wasn't a fair representation. Both members said they received a high volume of emails from those who opposed the content.
Rojas, for her part, said she has opposed the adoption from the beginning because there are some chapters she found to be not age appropriate and beyond state standards.
Board member Santos, however, said the allegations of inappropriate information and lack of transparency were simply allegations.
The board, she argued, "is in good standing" with the notifications that were sent to parents and policies that already allow parents to opt out of material they don't want their child to participate in. Moreover, she said, "we have an objective hearing officer recommending we adopt the material," and going against the officer's recommendation sets a precedent to overturn future recommendations.
NO SEXUAL EDUCATION NEXT YEAR
The board's decision Wednesday means that some students in the 2022-23 school year will not receive this specific unit of study, which is required by the state.
Classes that include the unit or lesson plans will have to skip the discussions entirely until the board adopts a curriculum, which could take months to accomplish.
"The board members that voted no just gave the governor more ammunition in the defunding of public schools," said Janielle Murphy, P.S. 305 board member and parent leader. "It was clearly stated on the record MDCPS is not following state law and they still voted no. Instead of the small percentage of parents being able to opt out of the curriculum, as allowed (by the state), they have opted the entire district out."