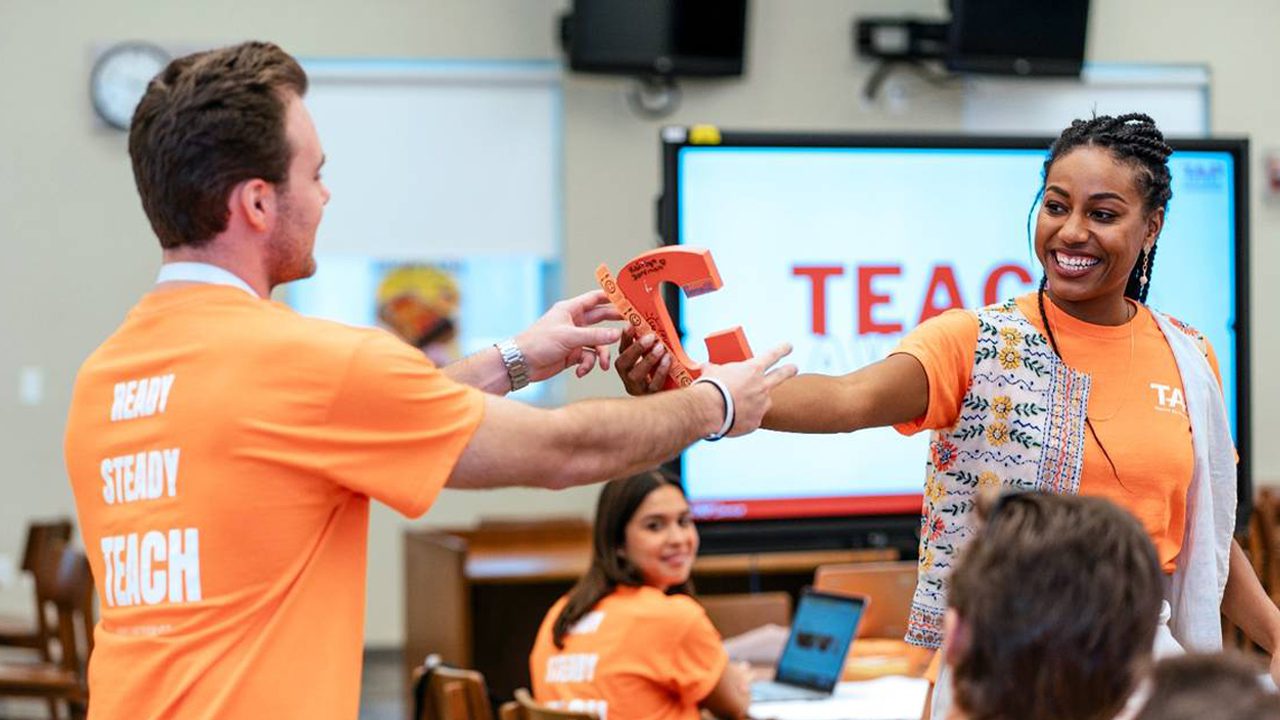 TAP, the teacher-to-classroom program, is expanding to FIU, Miami-Dade College
Miami Herald | By Sommer Brugal | November 16, 2023
Less than a year after its launch, the Teacher Accelerator Program, a Miami-based non-profit that recruits, trains, places and mentors aspiring teachers in Miami classrooms, announced this week that it's expanding its reach.
The TAP program, which launched in January at the University of Miami for students who were interested in being in the classroom but weren't studying education, will now be offered at Miami-Dade College and Florida International University beginning in January.
During the program's pilot semester, non-education majors at UM were able to enroll in a one-semester class during their senior year, participate in a six-week paid summer internship and, after getting their certification, begin teaching at Miami-Dade County Public Schools. The first cohort of students were in classrooms for the start of this school year.
Now, through its partnership with MDC and FIU, any adult with a four-year degree — as well as non-education majors at the schools — can enroll in the program and have a guaranteed position in the classroom for the 2024-25 school year. Last year, Miami-Dade County Public School District committed to hiring 50 teachers from TAP. The number for next year is unknown, but district staff said conversations are ongoing with local colleges and universities to continue its partnership.
The program was created by the UM School of Education and Human Development, Achieve Miami, a nonprofit that aims to narrow divides among students in Miami-Dade County, and Teach for America Miami-Dade, a nonprofit that recruits college graduates to teach in low-income communities for at least two years.
Jasmine Calin-Micek, director of programming for TAP, said the program's quick expansion can be attributed to the "urgent need" to address teacher vacancies in the district and the "overwhelming number" of residents who expressed interest in the program – many of whom weren't UM students. Before the first day of school Aug. 17, there were 300 instructional vacancies in Miami-Dade schools.
That's where the new partnerships come in.
"When it came to expanding, we wanted to make sure that the pathway was clear" for anyone who was interested, she said. The number of campuses between FIU and MDC — plus the lower costs, compared to UM — will enable the program to be more accessible to more people in the community, she added.
At Miami-Dade College, students — including non-education majors — and non-students with a college degree can enroll through Jan. 9. People not already enrolled in the college will have to apply to MDC.
Students at FIU on track to graduate with a degree in any major have through Jan. 16 to enroll in the course. University of Miami seniors and grad students can enroll in the course through Jan. 24.
Daymara Fernandez welcomes news of the expansion. Part of the first cohort of students, she knows first hand the impact of TAP and is excited that more people will experience the program — especially those like her who never considered a career in the classroom.
"I felt so prepared coming out of the program," despite not being an education major, she told the Herald. The South Miami Senior High teacher said the hands-on experience teaching summer school and the support she received from the program enabled her to feel ready to teach ninth and tenth-grade students "off the bat."
"If someone wants to go into education but may not be educated about the field, TAP is a great way to learn what it means to be an educator," she said
Last year, the program saw about 100 career changers. It's still unknown how many students will enroll in the program for the upcoming semester, but staff is determined to "take on as many as we can," Calin-Micek said.
"Whether you're a college senior or a career changer," she said, "you get to be part of this cohort of teachers stepping into a classroom for the first time together."