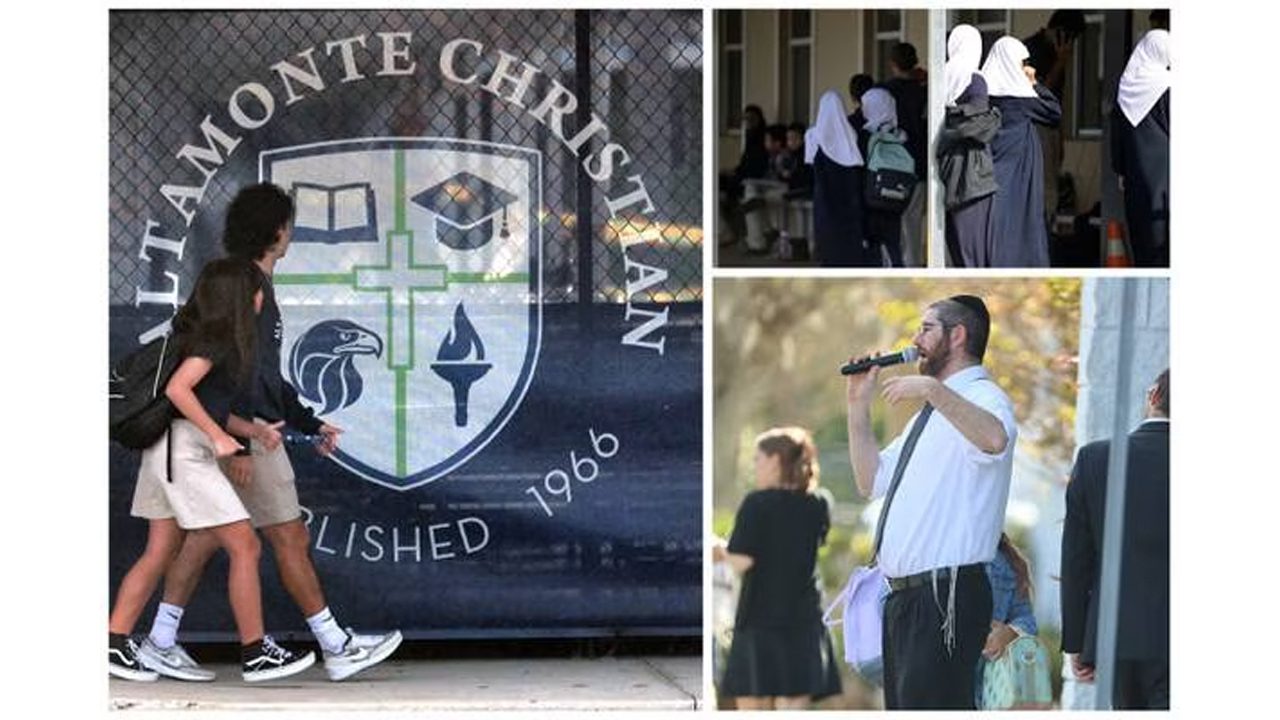 Taxpayer-funded vouchers go mostly to religious schools. 'Pay for it yourself,' rabbi says.
Orlando Sentinel | By Leslie Postal and Annie Martin | March 16, 2023
Most Florida students using state vouchers to pay for private school spend their scholarships at religious schools, as their parents select campuses where lessons from the Bible, the Torah and the Quran are taught alongside traditional academics.
At two of Central Florida's Islamic schools, girls must wear hijabs, a head covering worn by some Muslim women, as part of their school uniforms.
IBN Seena Academy — its mission to nurture children "in an Islamic environment" free of the "evils of modern society" — and Leaders Preparatory School combined received more than $1.6 million in taxpayer-funded scholarships this school year to educate more than 430 students.
At a large Jewish school in South Florida, where girls and boys are in separate classes starting in first grade, rabbis recently warned parents that neither co-ed summer camps nor organized sports were appropriate for the yeshiva's students.
Yeshiva Toras Chaim Toras Emes educates more than 1,000 students in kindergarten through 12th grade, about 86% of them on state scholarships that provided the school more than $3.5 million so far this year.
At Azalea Park Baptist school in east Orlando, the Bible is "the sole authority" and the school's foundation. The school, which received more than $679,000 so far this year for nearly 200 scholarship students, posts its "biblical stance on homosexuality, marriage and sexual identity" in its handbook — a policy that indicates LGBTQ students and staff are not welcome.Continue watchingThursday starts chilly thanks to ridge of high pressureafter the ad
Supporters of school vouchers are thrilled the Florida Legislature this year is pushing to expand the programs that now serve children from low-income families or those with disabilities into a "universal" plan open to all students. That will likely mean more money and students for religious schools, which now educate about 76% of Florida's voucher students, according to data from the Florida Department of Education.
That worries critics, among them some faith leaders, who are convinced that public money paying for religious education is problematic.
"If you want to religiously educate your child, that's good and wonderful. Do it the old-fashioned way — pay for it yourself," said Rabbi Merrill Shapiro, who lives in Flagler County. He is a past president of the board of Americans United For Separation of Church and State, which opposes Florida's voucher programs.
Under Florida's voucher programs, Shapiro said, he and other taxpayers end up "funding religious education that is anathema to us."
The state should focus on paying for quality public schools not going further down the "proverbial slippery slope" of intertwining government and religion, he added.
Supporters, however, view a "vouchers for all" plan as the next logical step for a state already at the forefront of the school choice movement. They see no problem with the scholarships funneling taxpayer money into religious schools as U.S. Supreme Court rulings, the most recent in 2020, have cleared away the biggest legal obstacles to such programs.
Florida's legislation to expand school voucher programs (HB 1 and SB 202) is part of a nationwide push by Republican-led states to expand school choice options for families. Arkansas, Iowa and Utah already passed legislation this year similar to that under consideration by Florida lawmakers and those in about 10 other states.
In Florida's GOP-dominated Legislature, the House bill was on the floor Thursday, and the Senate bill is also moving quickly. Gov. Ron DeSantis has been a supporter of Florida's voucher programs, so he is expected to sign the legislation that would create education savings accounts available to any student in kindergarten through 12th grade not enrolled in public school.
Parents could use the money for private school tuition or homeschooling services.
Currently, Florida provides scholarships to more than 255,000 students, most of whom use them to attend private schools, though some funds pay for therapy, homeschooling supplies and equipment for children with disabilities.
More than 2,000 private schools in Florida accept state scholarships, worth an average of $7,700 a year, according to Step Up For Students, the private agency that administers most of the state scholarships and provided scholarship numbers and payments for participating private schools.
Most of the religious schools are Christian, according to data from the education department.
'Should be parents' choice'
Jessica Mullins, an Orange County mother, uses a state scholarship to send her daughter to Orlando Christian Prep, a Baptist school in east Orlando where about 88% of its more than 630 students use scholarships, bringing in more than $2 million so far this school year.
She thinks religious schools should be an option for families who do not want their children in public schools. "It should be the parents' choice," she said.
A single mother of two, Mullins said paying for the school, which her daughter has attended since kindergarten, was "absolutely not" in her budget without a scholarship.
She loves everything about the school, an athletic powerhouse in the area, including the academic offerings, the extracurricular art and music classes, and the religious focus that means chapel, Bible study and prayer are part of her 9-year-old's week.
"It's definitely what you want for your kids," Mullins said.
Some religious leaders have pushed lawmakers to support the bills and urged parents to make their support known to the Legislature, too.
Yeshiva Toras Chaim Toras Emes in Miami asked parents in a March 2 message to sign a petition in support of the voucher expansion bills.
"State scholarships are a critical part of our Yeshiva's budget," read the message posted on its website, and making every student eligible for state funding "would make a major difference for our schools, parents, and the Jewish community long-term."
School administrators did not respond to a request for comment.
Representatives from Baptist churches and schools, including Eastland Christian School in east Orange, traveled to Tallahassee to tell lawmakers they support expanding the current scholarship programs. A representative of the Florida Conference of Catholic Bishops told them his organization does, too.
Florida's more than 240 Catholic schools combined educated more than 37,431 scholarship students last year, according to the conference.
Parents choose Catholic schools for a variety of reasons, including the faith component, though not all of them are Catholic, said Henry Fortier, the secretary of education and superintendent of schools for the Diocese of Orlando.
The scholarships make the Diocese-run schools affordable for families who could not otherwise pay the tuition, he said. But there are many families who now pay tuition out of pocket, and in Fortier's view, they should qualify for scholarships, too, because they pay taxes that support public schools their children do not attend.
"The parents are the ones that are choosing where to put their tax dollars," he said.
Denise Balbuena, who runs the small One Accord Christian Academy in north Orange County, agreed. Most of her school's 50 students use state scholarships to attend the "loving" school where all lessons are Bible-based, Balbuena said.
Their parents want a Christian school and, in her view, should be able to choose that for their kids.
"Where does public money come from? It comes from the public. And the public should have a choice," she added.
Backed by U.S. Supreme Court
The U.S. Supreme Court has upheld that view. In a landmark 2002 case, the court ruled an Ohio voucher program was "entirely neutral with respect to religion" as it was parents, and not the state, directing the money to religious schools.
In 2020, the court ruled that if states offer scholarships to private schools, they cannot prohibit religious schools from participating. Montana did that, arguing that a ban on aid to religious institutions in its state constitution meant its program could allow only non-religious private schools to take part.
The Supreme Court, however, said Montana's plan discriminated against religious schools and parents who wanted their children to attend them in a way that violated the U.S Constitution.
The 2020 U.S. Supreme Court case, and the now more conservative make-up of the Florida Supreme Court, make legal challenges to Florida's scholarships programs — and to their planned expansion — more difficult to tackle in 2023, said advocates on both sides of the voucher debate.
"It's fair to say we've had great success," said Ari Bargil, senior attorney for the Institute for Justice, which supports Florida's voucher expansion and has defended scholarship programs in federal and state courts.
Bargil said scholarship programs rightly let parents, even those without much financial means, decide on the best education for their children, rather than requiring the state to allocate all its education funding to public schools.
"School choice programs fund students, not schools," he said. "It seems to be precisely what voters want."
But critics remain concerned that voucher programs mix religion and public money and siphon money from public schools. They also point out that vouchers fund private schools that face no state accountability for academic performance and are free to deny admission to youngsters who, for example, have disabilities, are not fluent in English or are gay.
Rev. James T. Golden, pastor of an African Methodist Episcopal Church in Port Tampa and a former Manatee County School Board member, said the state should spend its resources improving public schools, not paying tuition for children to attend private schools. He said public schools will have fewer resources as the scholarship programs grow.
"I think that this is a part of a strategy by one of the political parties in the state of Florida to literally destroy quality public education in Florida," he said.
The Orlando Sentinel reached out to a number of Central Florida private schools of different faiths that take state scholarships.
None of the region's three Islamic schools responded. The Muslim Academy of Greater Orlando, where nearly 70% of students use the state vouchers, says on its website it aims to provide "high academic standards and expectations" along with "Islamic values and morals."
Altamonte Christian School in Seminole County, Azaela Park Baptist, the Orlando Jewish Day School and the Orlando Torah Academy also did not respond.
Private schools benefit
The number of Florida students using scholarships has jumped significantly in the past two decades. In 2006, about 30,500 used them; this year more youngsters have scholarships than enroll in Orange County Public Schools, the nation's eighth-largest school district with just over 200,000 students.
The planned expansion adds to critics' fears.
"Proponents of the bill always say the money should follow the student, said Scott Hottenstein, president of the Democratic Public Education Caucus of Florida. "Accountability needs to follow the money."
Hottenstein, a former Hillsborough County public school civics teacher, noted that private schools that take state vouchers do not face the academic scrutiny of their public school counterparts nor are most of them accredited.
Florida's public schools must give their students standardized tests and those results are publicly reported, along with schools' annual A-to-F grades based on student performance.
If private schools enroll a certain number of scholarship students, they must give them a standardized test of their choosing, and the state taps Florida State University to do an annual study based on those tests.
Those studies highlight private schools where students lost academic ground in math and reading during a three-year period — but Florida takes no action against those schools.
GOP lawmakers approved scholarship program laws that give the state only limited power to oversee participating private schools. The state has no say over the schools' teacher qualifications, curricula or facilities and no ability to yank schools from the program if their students are highlighted for academic losses on the FSU study.
Among the schools with significant losses in the most recent study were Altamonte Christian, several Catholic high schools, Cedar Hills Baptist Christian School in Jacksonville, Cavalry Christian High School in Clearwater and the elementary division of Yeshiva Toras Chaim Toras Emes in North Miami Beach.
They have "no accountability for their academic program," so there is no proof a voucher expansion will help state students, Hottenstein said. "The people who will benefit are the private school operators."