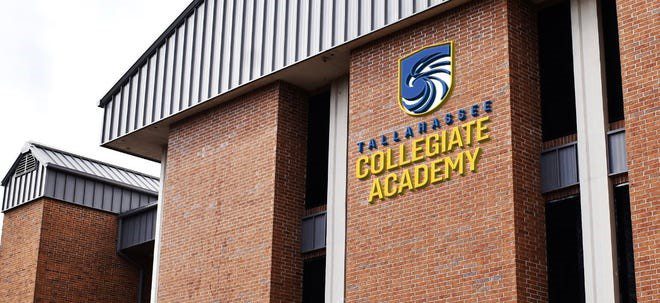 TCC officially names its new charter high school, with Trustee Karen Moore as founder
Tallahassee Democrat | By Tarah Jean | March 1, 2023
Tallahassee Community College recently announced the name of its anticipated charter school opening in August — the Tallahassee Collegiate Academy, whose founder is TCC trustee and marketing firm CEO Karen Moore.
The official naming of the tuition-free charter high school — which will be located on campus with a focus on science, technology, engineering and mathematics (STEM) fields — was announced Thursday during a TCC press conference.
Moore, who owns the marketing company Moore Agency, is credited with creating the school's name and logo, but there are no contracts between her or her firm and the college.
She also chairs the school's Board of Governors and chose the board members.
"Tallahassee Collegiate Academy is a game-changer, offering a first-of-its-kind educational experience for students," Moore said in a TCC release.
Since the charter school's Board of Governors is independent of TCC, Moore will not have to step down from her current trustee position. The board will, however, work closely with TCC since the college acts as its sponsor.
"We are so grateful that Gov. Ron DeSantis named us one of five colleges in the state of Florida to stand up a public charter high school," TCC President Jim Murdaugh said in a prepared statement. "Our successful track record in career and technical education brought us this opportunity and we are thrilled to make this announcement."
After TCC received $2 million from the state for a charter school on its campus — along with Miami Dade College, Northwest Florida State College, St. Petersburg College and Santa Fe College — Moore approached Murdaugh with the offer to help.
Moore has been working in education since 1980 and has been affiliated with TCC for more than 20 years — first as a member of the TCC Foundation Board of Directors and then later appointed to TCC's Board of Trustees in 2007, according to a TCC spokesperson.
The other founding members of the school's board are WFSU Public Media's Director of Content and Community Partnerships Kim Kelling, Senior Partner and CEO of Pittman Law Group Sean Pittman, Founder and CEO of Allegiant Strategies Group David Clark and Chief Operating Officer at Pople Investment Management Randy Pople, a former TCC trustee.
The high school will start with rising 9th and 10th grade students from Leon, Gadsden and Wakulla counties and expects to accept 100 students for the 2023-2024 academic school year before growing into the 11th and 12th grades.
While attending Tallahassee Collegiate Academy, students will have the opportunity to earn both a high school diploma and an associate in science degree by the time they graduate.
With the charter high school being tuition-free, this means students would also graduate with zero debt.
"There is no other place in the community that can offer the resources that we provide," Moore said in a release. "Our students will be ready to go directly into the workforce where they will be qualified for in-demand, high-paying jobs, or they can choose to continue their education."