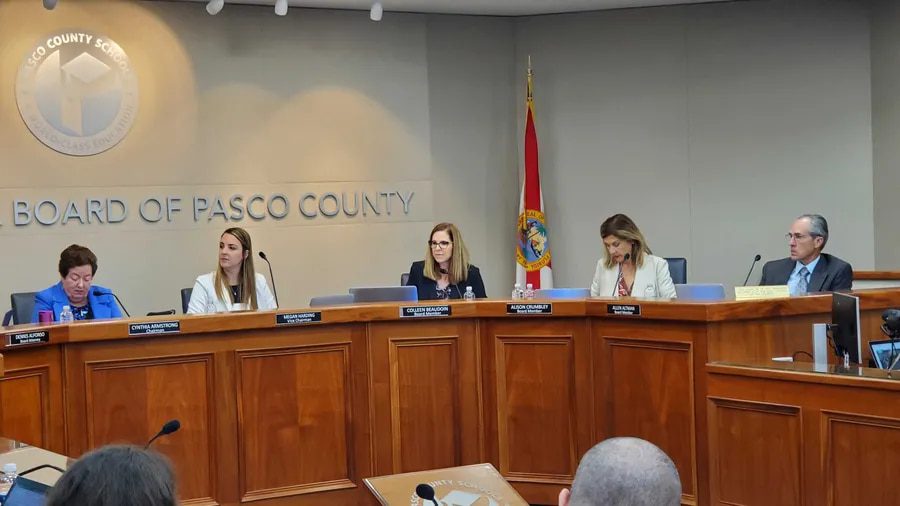 Teacher's aide leaves job as strife over Pasco's LGBTQ policies continues
Confronted by parents' disdain on the first day of school, the non-binary educator walked away.
Tampa Bay Times | By Jeffrey S. Solochek | September 14, 2022
Valeria Saldivar couldn't wait to become a kindergarten teacher's aide when the school year started last month at Trinity Elementary in Pasco County.
"I had heard so many great things about Trinity from people that work there and people in the community," said Saldivar, 23, who wants a career helping children. "I was working with a really experienced teacher. It was really a good experience overall."
Except that it ended before it could get moving.
As parents often do when they learn someone new will be interacting with their children, some of them looked up Saldivar on social media. They found public-facing pages showing Saldivar identified as non-binary queer, used "they" and "them" pronouns, and supported movements such as Black Lives Matter.
Disapproving chatter quickly spread in private message groups, fueled by Pasco members of the conservative group Moms for Liberty. Soon the comments were shared publicly, and word circulated that some people might show up at dismissal to raise a fuss.
Prompted by the principal's concerns for Saldivar's safety, Saldivar left and didn't come back.
"I didn't last a full day," said Saldivar, who became part of a long-running controversy that has preoccupied the Pasco school system for four years.
Local groups opposed to what they call the "LGBTQ agenda" began focusing on schools well before Florida's new "parental rights" law limiting discussion of the topic in classrooms. Others pushed back and the conflict has dragged on, continuing through Monday.
That's when dozens of purple-clad LGBTQ advocates and supporters protested the Pasco school district's Sept. 1 decision to ban the "safe space" stickers that signal support for marginalized students.
The school district generally has supported the LGBTQ community, and many have acknowledged as much.
"I know you care about queer students," Ridgewood High graduate Diana Shanks told School Board members as she criticized the sticker ban. "You held firm. … I was proud."
But some wonder whether that resolve has weakened.
A four-year fight
In 2018, a prominent religious advocacy organization criticized the district for its LGBTQ "best practices" guide, which encouraged employees to call students by their selected pronouns and to use the restroom that matches their gender rather than their assigned sex at birth. The Orlando-based Liberty Counsel urged the district to "do the right thing."
People across the nation attuned to the debate targeted the school psychologist who helped organize the guide, saying she should be fired for forcing a "twisted agenda" on the school system. Others began attending School Board meetings to demand action such as requiring parent permission to participate in clubs, mentioning specific concerns about children joining the Gay-Straight Alliance.
Amid that action, a Chasco Middle School gym teacher refused to supervise the locker room while a transgender student was using it, and started criticizing the district at conservative group meetings and on national media.
Before long, LGBTQ advocates began fighting back. Some days, board audiences approached 200, with public comment sections lasting hours.
The board and administration allowed the speakers their time. But they did not budge in some of the key areas.
Superintendent Kurt Browning brought forth revisions to the LGBTQ support guide, but hedid not push for a board policy as some wanted and did not abandon the underlying message of the guide. The board refused to change its rules for club participation and did not alter its stance on its overall approach to LGBTQ issues.
Board members remained unwavering when the issues resurfaced after the height of the pandemic.
As in-person meetings resumed, some residents began making demands,emboldened by new state laws regarding "parental rights" that included limits on what schools could tell students about gender identity and sexual orientation. Residents wanted to see certain books removed, complained about teachers who asked students what names and pronouns they preferred, and used the term "groomer" to describe some educators.
They also called for the removal of "safe space" stickers, suggesting they provide extra protections to LGBTQ students that should be expected for all students.
'Safe space' stickers
The mood shifted earlier this month when Browning told schools to get rid of the stickers. He said the district will continue to protect all students' rights, but that new state law forced his hand.
Board member Colleen Beaudoin, an ally of the LGBTQ community during her tenure, said the move came out of an "abundance of caution."
"Under the law, if certain matters are discussed with a teacher, now the teacher has the responsibility of disclosing it to parents," Beaudoin said. "It's misleading to kids to say it's a safe space because kids could interpret that as they can speak confidentially."
That move yielded primarily negative feedback from educators, parents and others who previously had thanked the district for holding firm in the face of unrelenting pressure. Many of the responses to the district were made anonymously, until LGBTQ advocates showed up at Monday's School Board meeting, urging Browning to reconsider his sticker decision.
Noting that the board was voting that night to recognize Bullying Prevention Month, they argued that the stickers were a way for some of the most bullied children to know they had places to be accepted.
"What is wrong with a little sticker that says you are safe in here?" said Land O'Lakes High English teacher Lina LaBarbara. "I ask that the district stand up to all the bullies in the community."
Board member Alison Crumbley told the crowd that the board withstood the pressure in the past and would not quit its commitment to creating a safe environment.
"We've already made this commitment to you," said Crumbley, who read from the resolution. "We really mean this for every kid."
Jackie Jackson-Dean, who wrote Pasco's LGBTQ guide but no longer works for the district, derided the decision on stickers before Monday's meeting.
"It is untrue to claim that Safe Space stickers distract from the goal of creating a safe environment when (Pasco schools) employees have proudly displayed Safe Space stickers for over 10 years with very few complaints or conflicts," Jackson-Dean said via text message.
"What has created distractions for educators and students in recent years are the community members who became emboldened to threaten, harass, bully, stalk, and dox PCS staff who openly supported marginalized youth or were a part of the LGBTQ+ community."
Feeling 'targeted'
It was that environment that Saldivar walked into when taking a job as a teacher's aide at Trinity Elementary.
Having grown up in a low-income, Spanish-speaking household, Saldivar understood some of the challenges children face and wanted to become part of the solution. But after Saldivar arrived at Trinity, Kirsten Krauer, a co-moderator of the Facebook page for Moms for Liberty in Pasco, encouraged members to email school officials immediately.
Members were urged to decry Saldivar's presence as "beyond inappropriate" for children. They were told that Saldivar was someone with "hate filled alliances" and that forcing children to use "preferred pronouns is against district policy." The message said "no student should be forced to call a teacher by a preferred nickname."
"This needs to be stopped before other schools make similar hires and demands of our students," Krauer wrote.
Saldivar said students were encouraged to call them "Val," and did not insistthat specific pronouns or formal titles be used.
And while Saldivar had shared political views on social media, now scrubbed, they said they never thought of pushing those onto kindergartners.
Krauer did not respond to requests for comment. Moms for Liberty cofounder Tina Descovich, listed as a co-moderator of the now-deleted page, distanced her group from the post.
"It is our hope that members seek to create a healthy partnership with teachers and staff so that concerns can be addressed in the best interest of our children," Descovich said via email. "Our goal is always to encourage involvement in what is taught in the classroom, not anyone's personal life."
After Krauer's post, Trinity principal Adam Wolin heard of plans for people to come to the school in protest. He became concerned. According to Saldivar, he said "it wasn't safe for me to be there" and suggested that Saldivar leave early and consider how comfortable it would be to return.
"I was never going in with an agenda," said Saldivar, who since has returned to a previous position outside education. "I was going to do my job. Unfortunately, I did see that side. It does feel like I was targeted."
'The kids were wonderful,' but …
Myndee Washington, a teacher whose husband, James, is running for School Board, called on the board and United School Employees of Pasco to stand up for Saldivar. Washington suggested those who dug up Saldivar's information and spread it around created hysteria and a hostile work environment that should not be tolerated.
Wolin, the principal, did not respond to requests for comment. School district spokesperson Steve Hegarty said Saldivar was not disciplined or fired for any reason and could have returned to the school.
Saldivar said they would have been willing to go back and face the reality of discrimination, but decided to avoid the drama that could have hurt children's schooling.
"The kids were wonderful. I have nothing negative to say about the school," Saldivar said. "The parents were what made it difficult."