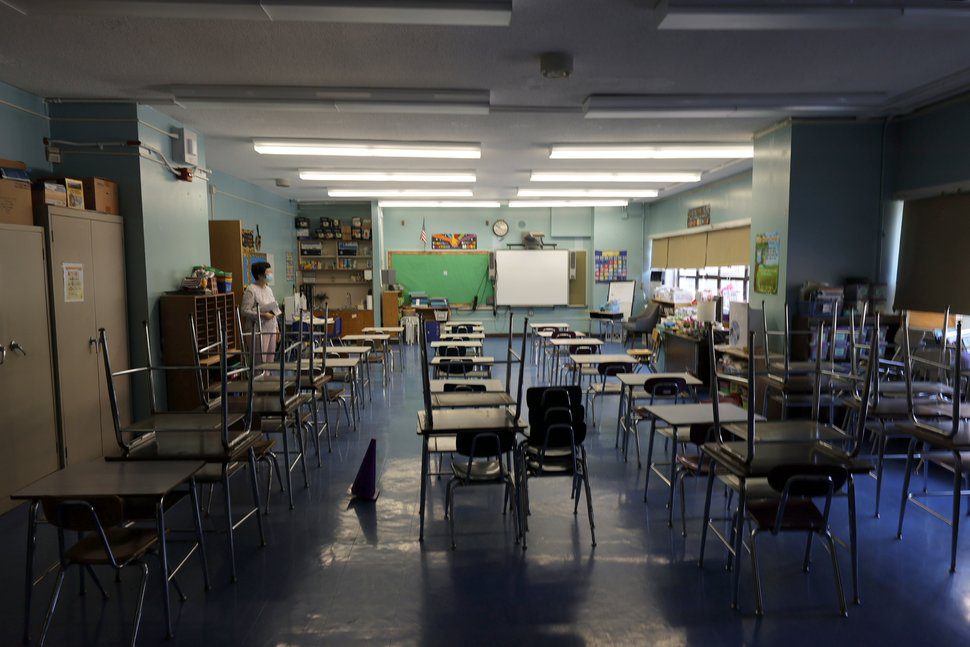 The Looming Crisis of Kids and COVID
U. S. News | By Lauren Camera | September 7, 2021
The number of school closures due to COVID-19 is increasing alongside pediatric infections as the country's public school system fully reopens – in many places with low vaccination rates and mask-optional policies.
More than 1,400 schools across 278 districts in 35 states that began the academic year in person have closed, according to Burbio, an organization that's tracking how schools respond to the ongoing pandemic. The figures are up from 698 schools across 158 districts in 25 states.
While the spike in the school closure count is startling many education officials whose well-laid back-to-school plans have been foisted by the highly contagious delta variant and is creating major challenges for parents, they make up just a fraction of the 98,000 public schools across the country.
In more than half of the closures, the schools pivoted to virtual instruction, but roughly 40% of schools that closed for a period of time did so without any remote learning plan in place, according to Burbio. A little less than 5% of schools delayed school start – some due to logistical issues like hiring enough bus drivers – and about 3% moved to a hybrid format, where students receive both in-person and virtual instruction.
The delays, closures and pivots back to virtual learning reflect the recent spike in COVID-19 cases among children.
While symptomatic and severe cases in kids remain less common than for other age groups, states and counties with mask-optional policies and where vaccination rates remain low are experiencing a harrowing increase in pediatric infections.
More than 51,000 students in Texas have tested positive for COVID-19 since the first week of school in August. The same is true for 20,000 students in Mississippi.
Meanwhile, in Florida, more than 26,000 children tested positive just last week, and children under the age of 12 became the age group with the highest new COVID-19 case count. In Georgia, cases in children 11 to 17 years old quadrupled over the last month since schools reopened. According to the state's public health officials, Georgia is experiencing the highest number of COVID-19 outbreaks since the pandemic began – more than half of which are connected to K-12 schools.
"I'm not surprised," Ashish Jha, dean of the Brown University School of Public Health, told MSNBC on Tuesday. "And the reason is the delta variant is very serious and it's very contagious. And a lot of school districts aren't doing the things that are necessary." he said.
For all the criticism heaped upon the Centers for Disease Control and Prevention, the government's top public health officials have been clear about how school leaders can return students to classrooms safely – by deploying a series of risk-mitigation strategies, one layered upon the other.
The more coronavirus safety measures a school implements, the safer it is, with the gold standard being high vaccination rates among educators, staff and eligible students. And over the course of three relief packages, the federal government has directed $190 billion to K-12 schools so that, among other things, every child could return to a classroom this school year.
Yet a recent analysis of 100 large and urban school districts, including the 30 biggest in the country, showed that 66% require masks for at least some and 68% have policies on contact tracing. But only 10% required vaccinations for school staff and just 18% required testing.
"Kids should be getting tested once a week," Jha said. "It's a really important part of preventing outbreaks. It doesn't just identify people who are infected, but it prevents those from spreading it any further."
"It's very possible to get kids back safely, but you have to follow the science," he said.
Education officials are watching the next two weeks closely and say it will likely be a bellwether for what to expect from the country's public school system this year.
"The next two weeks are going to be critical," says Chip Slaven, the interim executive director and CEO of the National School Boards Association. "We're going to start to see how bad COVID really is with kids."
One of the biggest tests will come next week, when New York City schools reopen Sept. 13 for more than 1 million children. With the exception of medically fragile children, all students will learn in person.
"What I'm hearing in my discussions with health officials is that kids are being impacted more by the new variant than by the original COVID strain," he says. "We're going to have to see how school openings go and how many are able to keep the buildings open, how many have to return to virtual, whether it's going to be better or worse. We don't know that yet. We are in a national crisis due to a health emergency and people need to remember that."