The School Board Queen: How a Florida Mom Is Shaking Up US Education
Bloomberg | By Samantha Storey and Kathleen Quillian | January 18, 2023
Bridget Ziegler is a leader in the parental rights movement focused on US school board elections. The final episodes of the "Bedrock, USA" podcast examine her conservative agenda.
After all the talk of a "red wave" in 2022's US midterm elections, the anticipated Republican sweep failed to materialize. Or did it?
At the school board level, candidates who opposed mask mandates and how gender and race are addressed in schools won about 30% of board seats, according to Ballotpedia, a nonprofit that tracks elections. Faced with new challengers, school board incumbents lost their elections at higher rates in 2021 and 2022 than in the previous three years,  Ballotpedia's analysis shows.  
Up until 2021, "people really weren't paying a lot of attention to what was going on in these elections," says Doug Kronaizl, a senior staff writer with Ballotpedia. "And now all of a sudden people are paying very close attention to what's going on."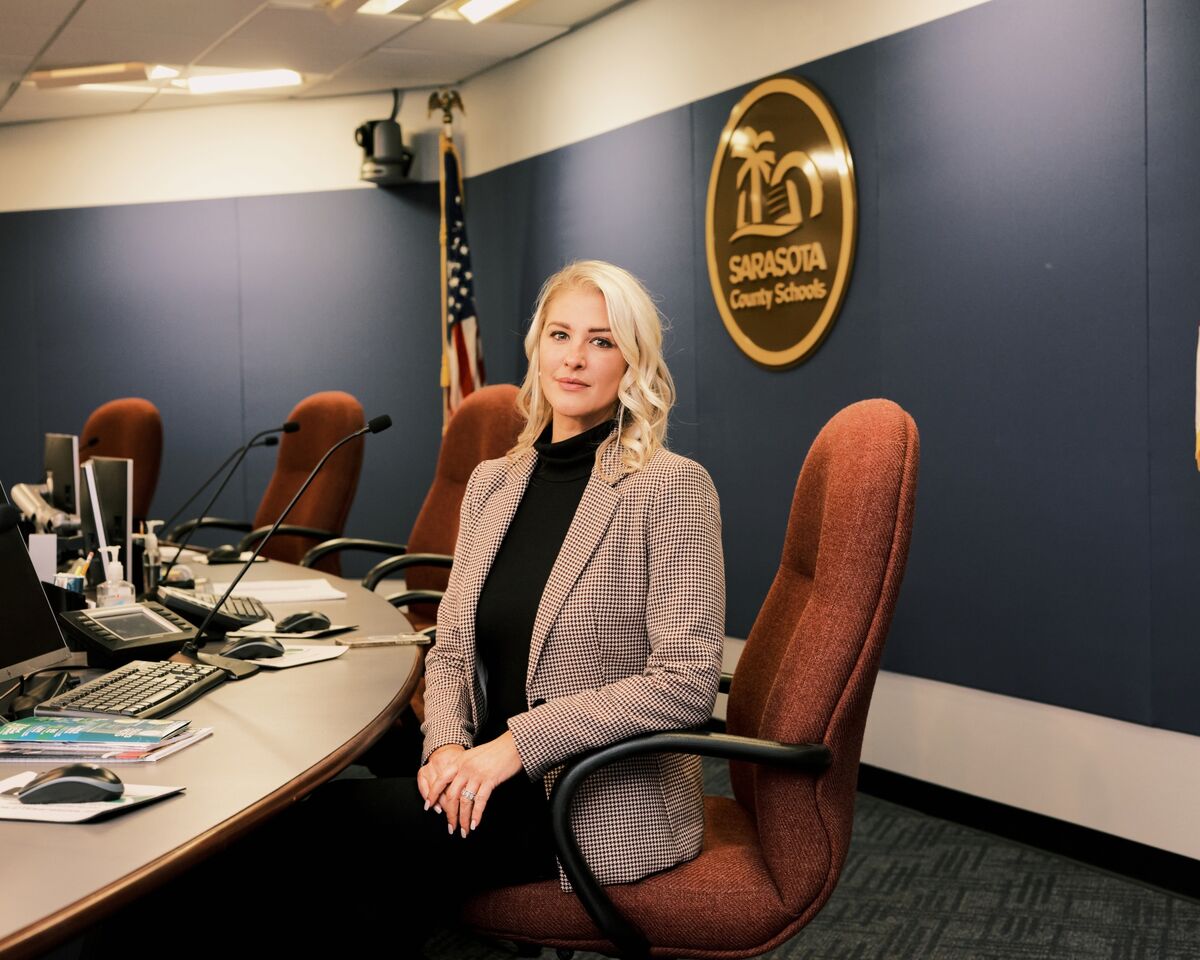 At the forefront of this trend is Bridget Ziegler, a school board member in Sarasota, Florida, and a mother of three. She is a founding member of Moms for Liberty, the right-wing activist group, and she has the support of Florida Governor Ron DeSantis; she says she was influential in helping pass the Florida Parental Rights in Education Act, and is now supporting the governor's Stop W.O.K.E. Act. Last year, she was put in charge of training people on how to run for school boards for the Leadership Institute, a conservative nonprofit that's been helping politicians all over the country since the 1970s, including with big wins during the 2022 midterms.
Over three chapters, "The School Board Queen" podcast explores who Bridget Ziegler is, what she stands for, and how she plans to help reshape and influence American education. The miniseries is part of " Bedrock, USA" — a podcast from Bloomberg CityLab and iHeart Media that examines how the far right is making inroads into local government.
The first episode looks at why Ziegler ran for school board — it was actually her husband's idea. (Christian Ziegler is vice chair of the Florida GOP and currently running for chair.) Her goal was to help shape the schools her children would some day attend. Once she got on the school board she encountered members she called "mean" and unprofessional. She didn't buy into how school boards were being run — too much control was given to the superintendent, she says. We also talk to Caroline Zucker, a school board member who worked alongside Ziegler and switched from Republican to Democrat because she "couldn't take the shenanigans going on anymore."
In the second episode, we journey back in time to the 1950s and 1960s and discover the origins of the conservative movement in education. We speak to two historians, Michelle Nickerson and Natalia Mehlman Petrzela. Nickerson describes how conservative activists in the 1950s and 1960s pushed back against progressive measures for that era. And Mehlman Petrzela discusses how sex education took center stage in the culture wars of the 1960s and 1970s. We draw a throughline from back then to today, and the big common denominator: the overreaching arm of government in children's lives.
The last episode digs in with Ziegler about why she has been called racist and homophobic. She has criticized the Black Lives Matter movement and how it was taught in schools, and she has promoted unscientific ideas around trends in trans youth. She explains her beliefs and why she is supporting Governor DeSantis in his education agenda. We also spend time with an eleventh grade trans teenager who talks about what it's like to be a student in Florida after the Florida Parental Rights in Education Act was passed.