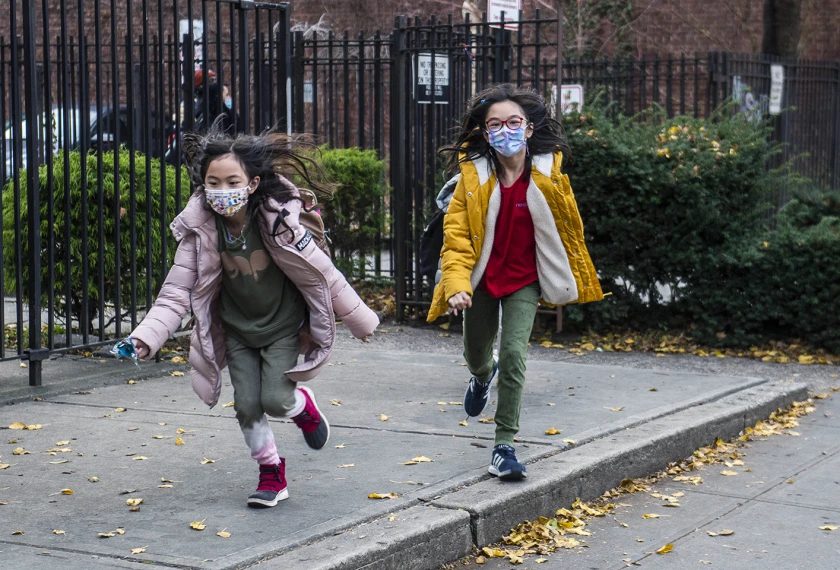 With a New COVID Variant Rising, Some Schools Revert to Former Safety Measures
EdWeek | By Evie Blad | January 10, 2023
The return from winter break has been met with a haunting sense of déjà vu for some districts, bringing back memories of the last few tumultuous years of operations during the COVID-19 pandemic.
Since the spring of 2020, returning from spring, summer, and holiday breaks has brought uncertainty. Would reconvening lead to a spike of illness? Would students and families welcome precautions like masking, or would they consider them too much?
This winter brought familiar echoes: A new COVID-19 variant spread over the holidays, case numbers increased in much of the country, and surges in other respiratory illnesses, like RSV, meant an uptick in absences.
"The pandemic is not yet in a steady state," said Elizabeth Stuart, executive vice dean for academic affairs and a professor of public health at the Johns Hopkins University in Baltimore.
Until COVID-19 evolves into more predictable seasonal patterns demonstrated by viruses like the flu, school districts should be prepared for some continued unpredictability, she said.
A new COVID-19 subvariant takes off
Some concern in recent weeks has been sparked by an emerging strain of the COVID-19 omicron variant, known as XBB.1.5, which was first detected in the United States.
The World Health Organization has called XBB.1.5 "the most transmissible" subvariant of the virus yet. It appears to be more capable of evading immunity from vaccines or previous illness than other strains of the virus, the organization said.
During the week of Nov. 13, XBB.1.5 made up less than a percentage of U.S. COVID-19 cases, the Centers for Disease Control and Prevention reported. By this week, it made up about 28 percent of U.S. cases, the agency data shows.
Scientists are still studying the severity of illness the strain produces, and they believe vaccine booster shots, updated in the fall to combat omicron, will help lower the risk of hospitalization, White House Coronavirus Response Coordinator Ashish Jah said in a Twitter thread.
Schools bring back precautions—temporarily
After months of waning COVID-19 protocols, some districts started the month by temporarily reinstating requirements for precautions they had abandoned last year.
School districts in Ann Arbor, Mich., Boston, and Philadelphia have required students to wear masks in the first weeks of the new semester. Other school systems have encouraged, but not mandated, face coverings.
The District of Columbia schools required students to take at-home COVID-19 tests to screen for cases before they returned to the classroom after vacation.
More than 38,000 students and staff provided results to the district, spokesperson Enrique Gutierrez said. Of those, 238 students and 106 staff reported a positive test, leading them to remain home under quarantine guidance.
Stuart, of Johns Hopkins, said she wasn't surprised to see instances of renewed precautions.
"I think what many of us [in public health] have wanted to see for a while is data-based decisionmaking," she said. "It's perfectly reasonable to evolve strategies as case levels change."
COVID-19 data is less clear in many areas than it was earlier in the pandemic. At-home rapid testing has grown, but many people don't report positive results, creating concerns about an undercount in official government data.
This school year, most school districts have also abandoned COVID-19 dashboards and regular surveillance testing used to monitor the effectiveness of their precautions.
The CDC recommends masking in communities classified as high risk under its metrics, which incorporate hospital capacity and rates of severe illness as key factors. By Jan. 4, 20 percent of counties were classified as high risk, though school mask requirements remain rare.
Multiple viruses lead to more absences
If schools do see a seasonal surge in illness, it may be trickier to determine if it's due to COVID-19 or one of the other viruses that have heavily affected children in recent months—including influenza, RSV, and strep.
Because most schools no longer carefully track COVID-19 caseloads among students, the first indicator of a problem may be an uptick in sick days among students and staff, without specific details on the nature of their illnesses, public health officials have acknowledged.
Before the winter break, districts in Kentucky, Maine, and Michigan closed schools to contain the spread of respiratory conditions that made it challenging to operate. When Ann Arbor Superintendent Jeanice Kerr Swift announced a temporary mask mandate Sunday, she cited not just COVID-19, but a range of respiratory illnesses, as a reason.
"We all understand the critical importance of our students and staff being present for in-school learning on every day possible," she wrote in a letter to families.
Efforts like improved ventilation, facilities upgrades, and vaccines have helped with COVID-19, and those will help drive down the risk of other illnesses as well, Stuart said.
But it may be a while before school leaders lose that pandemic-era anxiety when they return from a break.
"We aren't quite there yet with COVID," she said. "I think we will see these little spikes here and there. We just need to be able to pivot."