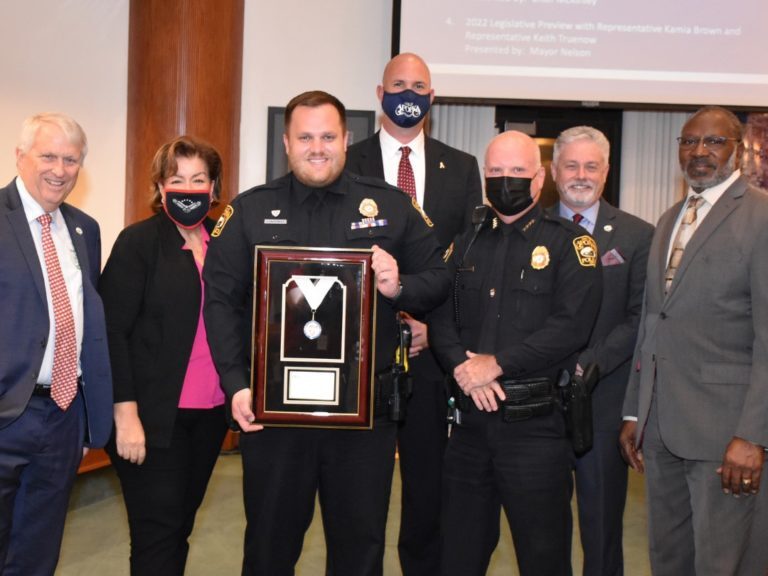 Apopka police officer receives statewide award for drug recognition expertise
Apopka Voice | Staff Report | September 13, 2021
Apopka Police Officer Robert Campbell takes the motto serve and protect seriously, and has for some time now.In 2015, Campbell joined several law enforcement agencies and former pro-wrestler Bill DeMott at the University of Central Florida to produce a public service announcement video against drinking and driving during the holidays.
DeMott's daughter, Keri Anne, a 20-year-old UCF student, was killed in October 2015 when a drunk driver swerved in front of her vehicle.
In 2017, Campbell presented the MAGIC program to fifth-graders at Apopka Elementary School. MAGIC – an acronym for Mentoring, Advising, Guiding, and Instructing Children – is a ten-week series of lessons offered to fifth-graders at each of the Apopka area's five elementary schools. It encourages students to know the impacts of good and bad decisions, but just as important, how to deal with influences from friends and others who often create pressure for those difficult choices.
"It's been really great, and the kids have been very accepting of it," said Campbell in 2017. "The whole concept behind this program is to understand that their future decisions will have consequences."
And in 2020, his expertise in Drug Recognition was recognized by a statewide organization.
Campbell, a School Resource Officer for the APD, was selected by the Florida Law Enforcement Traffic Safety Challenge organization as the 2020 Drug Recognition Expert (DRE) of the Year. Campbell became certified as a Drug Recognition Expert in 2016. Since then, he has been re-certified twice and is now a certified DRE Instructor.
Campbell does not hesitate to help officers in the field with drug-related DUI stops, teaching them about indicators of impairment that they missed to help solidify their case. He is also often called upon by other Drug Recognition Experts to roundtable their observations to discuss the possible causations.
More notably, Campbell has used his knowledge as being a Drug Recognition Expert to create a presentation for the Florida Attorney Generals Office's School Resource Officer program. Through this presentation, he taught the attending SROs, from throughout the state, the signs, and symptoms of drug consumption, as recognized by Drug Recognition Experts, to help the SROs properly recognize drug usage on their respective campus.
The Florida Law Enforcement Traffic Safety Challenge (FLETSC) is the ONLY traffic safety recognition program for law enforcement agencies' overall traffic safety efforts.
The FLETSC recognizes the best overall traffic safety programs in Florida. The areas of concentration include efforts to enforce traffic safety laws and educate the public about distracted and impaired driving, motorcycle safety, occupant protection and child passenger safety, pedestrian and bicycle safety, speed and aggressive driving, and other area issues that impact the safety of roadway users. This challenge supports the goal of encouraging increased statewide enforcement of traffic safety laws to reduce traffic crashes, serious injuries, and fatalities.