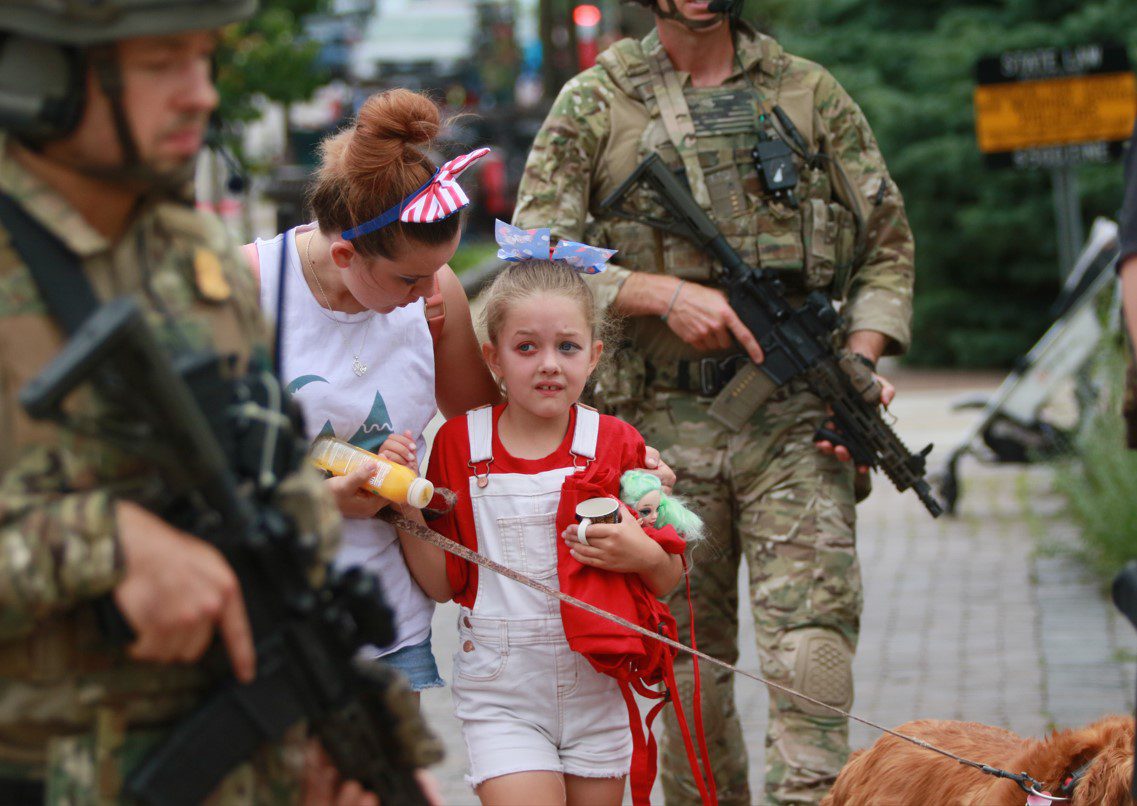 Broward teacher/gun-safety activist vows to use commission post to demand reform
'We are traumatizing the next generation of Florida's youth'
Florida Phoenix | By Laura Cassels | July 6, 2022
Citing 11 mass shootings over the July 4th holiday, Broward County school teacher and gun-violence prevention activist Tracy Merlin said Wednesday she will use her new role with the Florida Commission on the Status of Women to amplify demands for common-sense gun laws.
"This weekend, there were 11 mass shootings in America," Merlin said during an event in Fort Lauderdale attended by gun-safety activists, gun-violence survivors, and Broward County elected officials seeking gun reform.
"Gun violence has taken over our nation and our state. … We do not deserve to live like this, nor do we have to."
Merlin, who teaches second grade, said she was horrified by images she saw of the widely reported massacre near Chicago in which seven people were killed and scores wounded by a lone gunman with a high-powered rifle.
"Did you see the face of the 2-year-old little boy, Aiden, separated from his parents during the Highland Park Fourth of July parade? Both of his parents were killed. His grandparents had to come pick him up," Merlin said.
"Did you hear about the father, Alexander Sandoval, who put his sons and a dog into a dumpster so he could run back for the safety of the rest of his family?"
She warned that children are watching, too.
"We are traumatizing the next generation of Florida's youth. … As a school teacher, I can tell you, the second-graders of today carry much more weight on the shoulders of their little bodies than they did years ago. We have to do something now."
Parkland
Merlin was appointed to the Status of Women commission in June by Agriculture and Consumer Services Commissioner Nikki Fried, who hosted the event Wednesday to spotlight the work of Merlin and others to promote gun-law reform and reduce gun violence, in part to protect women and children, its frequent victims.
Joining them were Broward legislators Sen. Lauren Book and Rep. Christine Hunschofsky, County Commissioner and former state Sen. Nan Rich, and School Board members Laurie Rich Levinson and Debbi Hixon.
In 2018, Hixon's husband, athletic director Chris Hixon, and 16 other staff and students were murdered by a lone gunman at Marjory Stoneman Douglas High School in the Broward County city of Parkland.
Along with Hixon, mothers of children slain that day stood with Merlin to show support for their mutual cause.
The Parkland gunman, Nikolas Cruz, then 19, was convicted of mass murder using an AR-15 semi-automatic rifle. His sentencing trial begins July 18, despite his attorney's request for a delay in light of other recent mass murders carried out with similar weapons in Buffalo, N.Y., and in Uvalde, Texas, according to the Associated Press.
"We are hearing the collective cry for common-sense gun reform: universal background checks, safe-storage laws, red-flag laws, laws on ammunition sales, banning assault weapons, and dozens more," Merlin said.
Honor with Action
Following the school massacre in Parkland, Merlin and others co-founded the Honor with Action Coalition, bringing gun-safety activist groups together. She is a member of the National Education Association, the American Federation of Teachers, and the Broward Teachers Union.
Her Status of Women commission bio says she holds teaching endorsements for Florida in elementary education, ESOL, reading, and gifted education.
Merlin joins 19 other members on the commission, which evaluates the status of women in areas such as housing, health, and leadership, and issues annual reports to state lawmakers.
Fried predicted Merlin will bring fire to the commission.
"I can tell you, I've been to those Status of Women meetings, and I'm sure some of you have, as well," Fried said, glancing toward the group and then looking squarely at Merlin. "You are going to rock them."