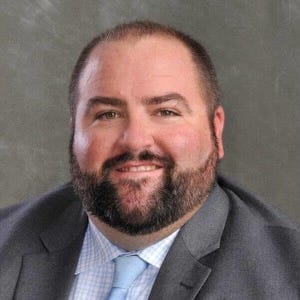 Chad Choate III appointed to Manatee County School Board by Gov. Ron DeSantis
Sarasota Herald-Tribune | By Ryan McKinnon | August 6, 2021
The Manatee County School Board's vacant seat has now been filled with a name that is familiar to many in the school district.
On Friday, Gov. Ron DeSantis announced that Sarasota financial planner Chad Choate III would take over the open District 4 seat.
Manatee County Administrator Scott Hopes had been elected to the seat in 2018, but he vacated the board to take the top job with the county earlier this year. 
Choate has deep roots in Manatee County.
His grandfather was principal of Manatee High School from 1975 to 1991, a period in which the school won three football state championship years. He was the man who hired legendary football coach Joe Kinnan in 1981.
Choate opposes mask mandate in schools
In a statement accompanying the governor's announcement, Choate said he looked "forward to standing with Governor DeSantis by opposing a mask mandate in Manatee County Schools, keeping Critical Race Theory out of our classrooms and prioritizing civics education."