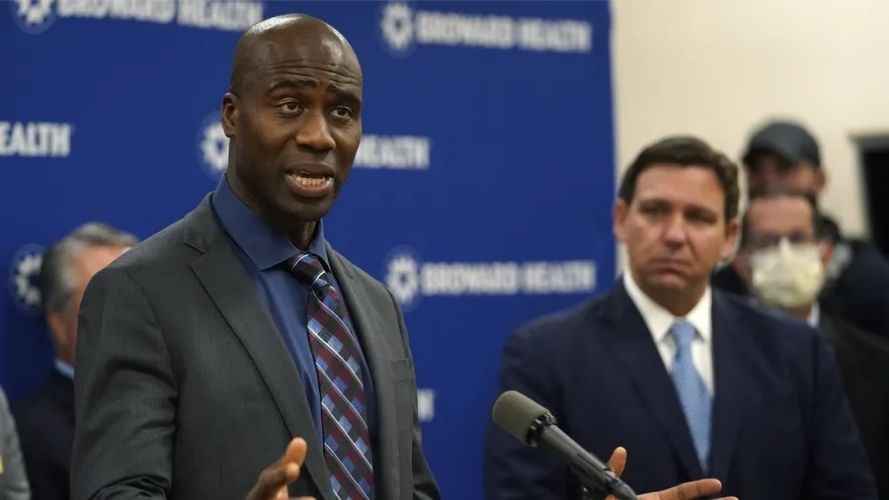 DeSantis presses Florida Legislature to pass doctor 'free speech' bill
Appearing alongside the governor was a Panama City dermatologist who advocated for kids to lie about previously contracting COVID-19 so they could skip quarantine.
Tampa Bay Times | By Kirby Wilson and Emily Mahoney | March 3, 2022
TALLAHASSEE — One of Gov. Ron DeSantis' priorities isn't moving in the Florida Legislature.
DeSantis wants that to change.
At a news conference in Panama City, the governor called on legislators to pass a measure that he says would protect doctors' ability to express themselves freely without fear of reprisal from the boards that regulate the medical profession. A federation of state medical boards warned doctors in July not to spread misinformation during the pandemic or risk losing their licenses.
"You're not going to have good medicine practice if people are fearful of doing things that the evidence is telling them to do, just because it may conflict with the narrative," DeSantis said Thursday at Florida State University's Panama City campus.
He applied pressure to the Legislature: "We're here today to say, 'Let's get this thing across the finish line.' "
Two measures, Senate Bill 1184 and House Bill 687, appeared to die earlier this week when committees in the House and Senate met for the last time without hearing the bills. But the measures could still be amended onto other pieces of legislation, passed by the House and Senate, then signed into law. The 60-day legislative session is scheduled to end March 11.
The bills would make it more difficult for a medical licensing board to reprimand or sanction a doctor for views expressed by the medical professional — including on social media.
In order to sanction a physician for their views, a regulatory board would have to find that the speech "led to the direct physical harm" of a patient the doctor had seen within the last three years. The bill also would require boards to share complaints with the physician within seven days of receiving them.
Under the Senate bill, a board could be liable for up to $1.5 million every time they violate the established standard for sanctions.
Opponents of the measures, including most Democrats in the Legislature, have argued the state shouldn't be interfering with how licensing bodies regulate doctors.
"We're tying the hands of medical boards whose job it is to keep Floridians safe — medical boards that are not run by politicians, they're run by medical professionals," Rep. Carlos Smith, D-Orlando, said at a February committee hearing on the bill.
State medical boards have also come out against efforts like Florida's bills.
The Federation of State Medical Boards said the proposed legislation could limit boards' abilities to conduct their work, which "sets a dangerous precedent and puts the public at risk," the group's board of directors said in a statement Monday.
At the news conference Thursday, DeSantis said medical boards have gone too far in regulating the way doctors think and practice.
He read from what appeared to be a July statement from the Federation of State Medical Boards, which warned doctors against spreading false information about coronavirus vaccines.
The governor argued that what was once defined as "misinformation" earlier in the pandemic has now become "common understanding." Lockdowns, mask mandates and vaccines have not been the silver bullets against the coronavirus pandemic that they were once promised to be, he argued. A January U.S. Centers for Disease Control and Prevention report found vaccinated Americans were far less likely both to contract the virus and die from it than their unvaccinated peers.
The governor's hand-picked surgeon general, Joseph Ladapo, also spoke at the news conference, reiterating his claim that masks are not effective in preventing the spread of the virus. The CDC website lists more than a dozen studies that have shown masking to be helpful in curbing the spread of the virus.
DeSantis then introduced a Panama City dermatologist named Jon Ward, whom he called "one of the engines behind this movement."
Ward last year made a social media post encouraging parents to "train your child" to lie to school officials and saythey previously had COVID-19 to avoid having to quarantine after an exposure.
Bay County Superintendent Bill Husfelt told a local TV station at the timethat the advice was "absolutely reprehensible," and Ward later said he felt "regret" for the statement and edited the post. However, the new version still offered "a pro tip to game the system" by notingthat many schools were not requiring actual proof of vaccination or previous infection, according to WJHG.
"Your doctors are being silenced," Ward said at the news conference, standing next to DeSantis. "I am ever blessed to be in the state of Florida, where public health decisions are being led by data and not the dogma of Dr. (Anthony)Fauci."
DeSantis said the measures could turn Florida into "a refuge for physicians who want to practice their craft freely, like they intended to in the first place."
But only if the Legislature passes them.
Legislative leaders have not committed to resurrecting the issue. Speaking to reporters Wednesday, House Speaker Chris Sprowls, R-Palm Harbor, noted that some bills will certainly be revived before the end of the legislative session.
"Whether that bill is going to be one of them, I can't tell you," Sprowls said.
Sen. Doug Broxson, R-Pensacola, the bill's Senate sponsor, declined to comment.
When asked Monday whether his bill was dead, Rep. Brad Drake, R-Eucheeanna, wrote back "no," in a text message.
When asked again Thursday for more information about the bill's future, Drake responded, "If I knew more, I would share more."