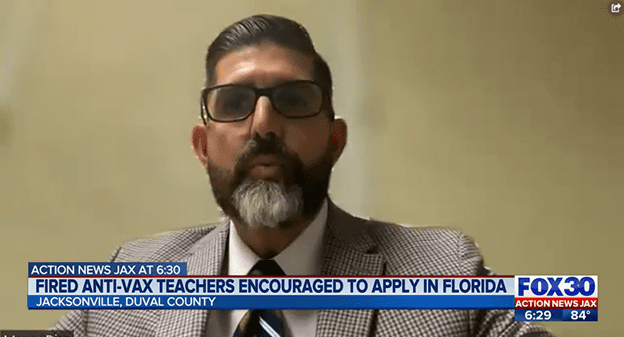 Florida Education Commissioner extends olive branch to New York teachers fired for refusing vaccine
Action News Jax | By Jake Stofan | September 21, 2022
The Florida Commissioner of Education is extending an olive branch to educators fired in New York City for failing to comply with the district's COVID vaccine requirement and encouraging them to apply in Florida.
It started with a headline: 850 New York City teachers fired for refusing to get the COVID vaccine.
This tweet from Florida's Commissioner of Education Manny Diaz followed.
"Come on down to the free state of Florida! We are proud to offer reciprocity to New York teachers," said Diaz in the tweet posted Monday.
Florida is experiencing a teacher shortage.
According to the Florida Department of Education's last count, it was roughly 4,000 teaching vacancies.
"To fire that many teachers and deplete your forces, we welcome them here in Florida," said Diaz in an exclusive interview with Action News Jax. "We see at this point even the President has called the pandemic over and I think people here in Florida have the ability to live their lives to make those decisions and those people who are educators can make their decisions for their own health."
Florida Education Association President Andrew Spar told us he's skeptical the offer will bear fruit.
Salary rankings from the National Education show New York's average teacher pay is nearly double that of Florida's, which ranks 48th in the nation.
"They treat their teachers with more respect, way more respect than they do here in the State of Florida. They still have job protections in New York so they can speak up for their students and their families without fearing retaliation or retribution," said Spar.
Whether the plan works remains to be seen.
Maria Quinones, who was picking up her nephew from high school Wednesday afternoon, told us she's on board with anything that will get more teachers in the classroom.
"I mean, we need them. Cause we got too many kids in one room," said Quinones.
Commissioner Diaz pointed out the Florida Legislature has invested roughly $2 billion in recent years to raise teacher pay.
He also noted the teachers fired in New York City are currently receiving no salary or benefits.