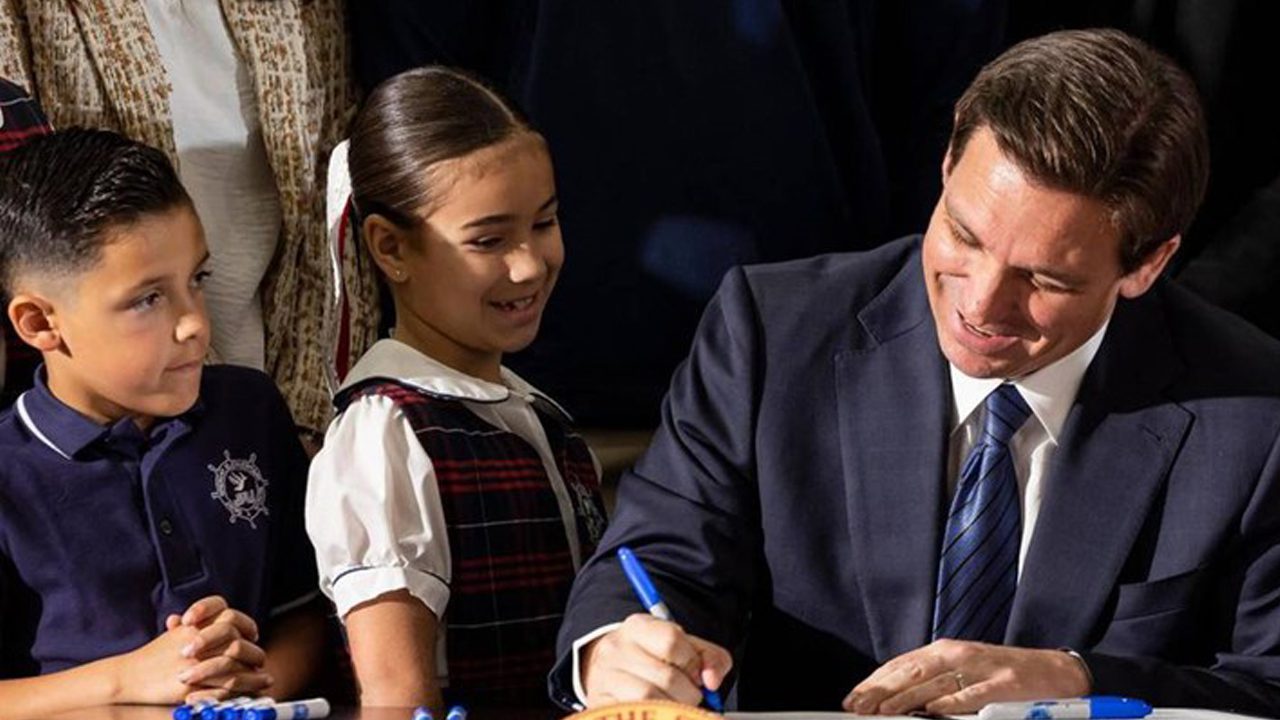 Florida families say school vouchers are unpaid, causing major disruption
The first disbursements in the newly expanded program were due on Sept. 1.
Tampa Bay Times | By Jeffrey S. Solochek | September 21, 2023
Danielle Underwood is at wit's end over the state-funded school voucher for her daughter, Aryana.
"I checked my (balance) an hour ago," Underwood said Thursday afternoon. "It was zero."
That meant her daughter's small private school for students with special needs hadn't received its first quarter installment for her voucher, despite it being due by law within 10 days of Sept. 1.
"They have not gotten their first quarter funding yet for any of their students," said Underwood, a former Hernando County parent activist who lives in Palm Beach County. "The school is faced with closing its doors. … We've never had this problem before."
It's a situation being played out across Florida, as private schools and families scramble to make ends meet amid the growing pains of the state's expanded voucher program. Lawmakers lifted the eligibility requirements for the system, leading to a doubling of participation this fall to more than 400,000 children.
The disruption appears to have affected thousands of students, while parents and school officials say they have been unable to get answers from those in charge of the $4 billion voucher system.
"This year it's been the worst," said Maria Preston, who runs Diverse Abilities Center in Fort Lauderdale.
Preston said representatives from about 150 private schools held a Zoom conference call late Wednesday to discuss how to deal with the lack of funding. Some have tapped into personal funds to pay their bills, she said, while one spoke of getting an eviction notice.
At her school, which serves about 50 children with intense therapeutic needs, some services have been canceled because they can't pay the providers — despite the requirements of student individual education plans.
"That's illegal," Preston said, adding that she had sent a complaint to the federal Office of Civil Rights regarding the situation.
Calling Step Up For Students, the organization that manages about 98% of all vouchers, and the Florida Department of Education has made no difference. Parents have posted on social media examples of generic responses they've received from Step Up, many of which suggest they call for more specifics.
"When you call them, you're on hold four, six, eight hours," Underwood said.
And if they do say something, it's usually along the lines of "it's coming," she said.
When asked about late payments to schools a week ago, Scott Kent of Step Up For Students told the Tampa Bay Times that funding was not late.
"All Unique Abilities scholarship funds for which we have received funding from the Florida Department of Education have been applied to eligible student accounts, with the exception of about 5% where additional verifications are being made," Kent said via email on Sept. 14, referring to the voucher program for students with disabilities. "As we announced on our website and in social media, some portions of our system will be unavailable for a couple of days while scholarship funds are processed for scholarships other than the Unique Abilities students."
A week later, families and schools said Step Up keeps extending the deadlines.
Kent deferred all questions Thursday to the state Department of Education.
Department spokesperson Cailey Myers did not provide specifics on why some schools and parents have yet to see their voucher money six weeks into the academic year.
"It remains important that the Department of Education, as well as Step Up For Students, conducts its due diligence and exercise the proper controls to ensure that taxpayer funds are expended both expeditiously and appropriately," Myers said via email.
The situation has caught the attention of some state lawmakers, including Rep. Angie Nixon, a Jacksonville Democrat who opposed the expansion. Nixon said she and others predicted problems would occur because of the major growth, but that shouldn't be the focus now.
"We are trying to help the parents of these kids," Nixon said, noting she has gotten calls from many families, many of whom are lower income and minority.
She said answers have been few and far between. Into the void have surfaced rumors, including that the scholarship funding organizations ran out of money or that they're sitting on cash to collect the interest.
"It's a mess," Nixon said.
For parents like Underwood, it's a scary proposition. Many signed contracts with their schools putting themselves on the hook to pay tuition they can't necessarily afford if the vouchers don't arrive.
They also count on their schools to provide services that district schools often can't.
"We don't know what to do," Underwood said.
Preston said the private school operators are organizing to press for action.
"We're about to converge on Tampa Bay soon if things don't get better," she said, referring to the home of Step Up officials such as president Doug Tuthill. "And Mr. Tuthill can't hide."