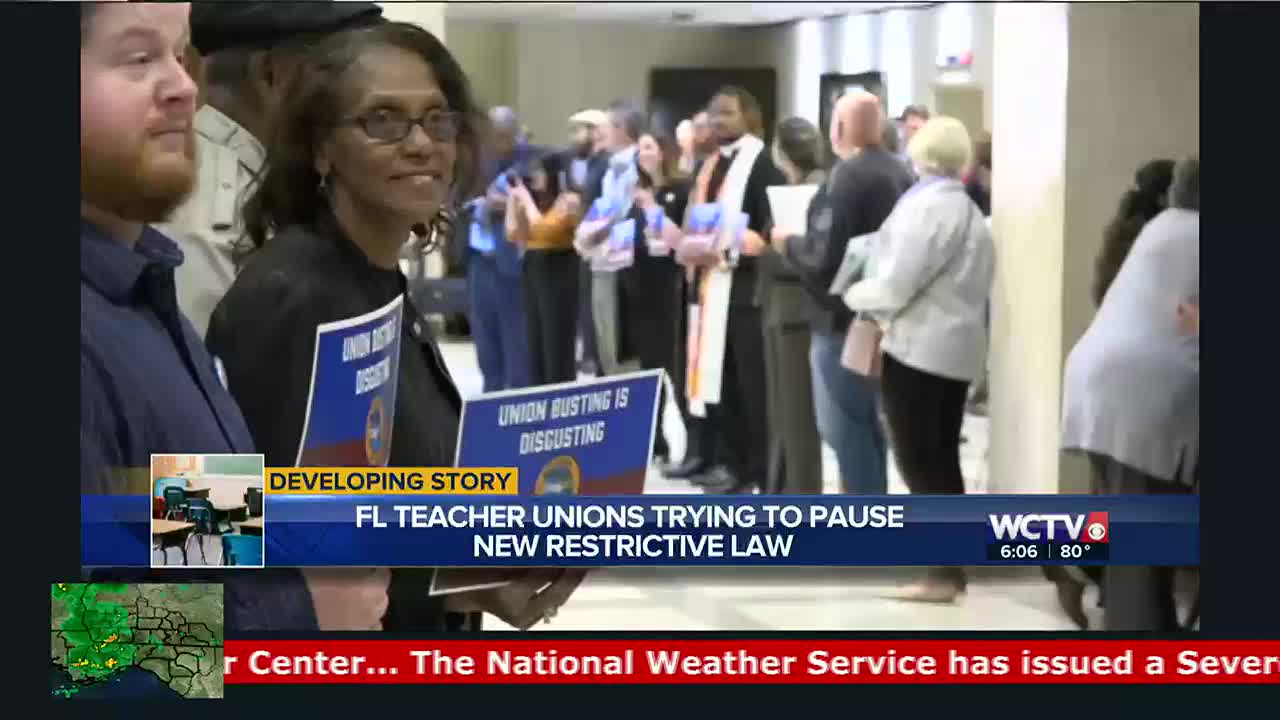 Florida teachers' union asks judge to block new law
WCTV | By Cody Butler | June 21, 2023
TALLAHASSEE, Fla. (WCTV/Gray Florida Capital Bureau) – Teacher unions across Florida are trying to get a federal judge to stop a new law from taking effect.
Several unions, including the Florida Education Association and United Faculty of Florida, are suing the state over a law that would put new restrictions on unions. Those new restrictions include a ban on payroll deductions for union dues, requiring local unions to go through audits and requiring 60% of eligible employees to pay dues in order for a union to exist.
Florida is a right-to-work state, which allows people in unionized workplaces to opt out of paying union dues and fees. United Faculty of Florida President Andrew Gothard said because of that, he wasn't surprised the legislature put more restrictions on the unions.
"We believe that the Constitution applies to everybody. The protections of the Constitution apply to everybody. Freedom of speech is not limited to who you support," Gothard said.
Lindsay Killen is the vice president of national strategy at the conservative think-tank James Madison Institute in Tallahassee. She advocated for the new law.
"It advances public employee freedom beyond the traditional balance we see in other states," Killen said.
"Giving them a fresh choice every year to decide they want to pay the union for membership and not have the state involved as the middle man in the dues collection or the fundraiser for the unions," said Killen.
The Florida Public Employees Commission told the Gray Florida Capital Bureau it isn't commenting on the lawsuit while it is pending in court.
There is a hearing on an injunction on the new law Friday. The federal judge will decide if the law can be enforced on July 1 while the lawsuit is argued in court.
Unions representing other public employees are also suing in state courts.