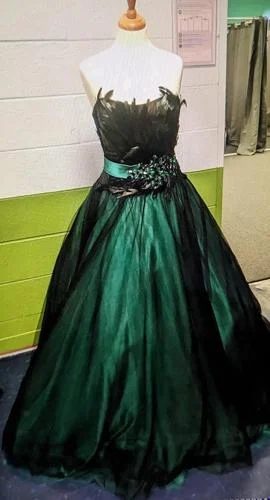 Gowns for Girls giving 1,300 dresses for students
Sun North Port | Elaine Allen-Emrich | March 7, 2023
NORTH PORT — Stephanie Brown said her husband is the reason she's bringing 1,300 gowns to the area for girls to have for homecoming or prom — for free.
Her husband had seen the Hurricane Ian devastation in North Port and Port Charlotte. He asked his wife to help local students with her Gowns for Girls giveaway program.
The couple, who live in Valrico, usually gives out gowns in the Hillsborough County. But this time, they wanted to give juniors and seniors in North Port, Englewood, Venice, Port Charlotte, Punta Gorda, DeSoto and Manatee counties the opportunity to receive a free, new gown.
Stephanie Brown, a middle school teacher in Valrico, is bringing 1,300 gowns to North Port.
She plans to set up at the Hampton Inn, 5664 Tuscola Blvd., and will give away the gowns from 2 p.m. to 8 p.m. Friday and from 9 a.m. to 5 p.m. Saturday.
"We have a makeshift dressing room for girls to try on the gowns," she said. "We have every color and every size from extra small to extra large."
"…Understanding many local students were impacted by Hurricane Ian, I want them to be able to go to their prom without having to spend money on an expensive gown."

Stephanie Brown, Gowns for Girls
The Gowns for Girls program began in 2020. But the pandemic impacted the couple's ability to give away gowns because proms and homecoming dances were canceled.
"After the devastation of COVID-19, I just don't think anything should taken away from students," she said. "So understanding many local students were impacted by Hurricane Ian, I want them to be able to go to their prom without having to spend money on an expensive gown."
Two years ago, Gowns for Girls was gifted 300 new homecoming and prom gowns by a bridal boutique in Brooksville. The following year, the program received 300 more new gowns.
The inventory has grown ever since.
"This is the first time I am taking Gowns for Girls on the road into another county," Brown said.
The idea for Gowns for Girls came to Brown after she learned an eighth-grade student, who didn't have a home, wanted to go to a school dance but didn't have a dress. She took the student shopping for a dress and shoes.
"It was really magical," Brown said. "Then I realized, if a kid can't afford an eighth-grade dance dress, how are they managing a high school dance, prom or homecoming? The tickets for the prom are expensive — and so are dresses."
Gowns for Girls includes a variety of dresses.
"We have some that are over the top with ruffles and others that are plain," she said. "Some I say can only be worn by someone with just the right personality. The girls just have a great time picking and choosing what they want."
With 1,300 gowns, Brown is hoping many will go to local students.
"We are bringing our entire boutique," she said. "We travel with rolling racks so girls can see the great variety we have for them. If you like ruffles and lace, we have it. If you don't and need your shoulders covered, we have that too. We have everything and they are gorgeous."
Stephanie has been working with Cymon Copley Pomerleau, a North Port High School teacher, whose Key Club students launched the Key Boutique at the high school.
"We are so excited to team up with Gowns for Girls," Pomerleau said. "We want hundreds of girls to come and benefit from this great event. We can't thank Stephanie enough for coming to North Port."