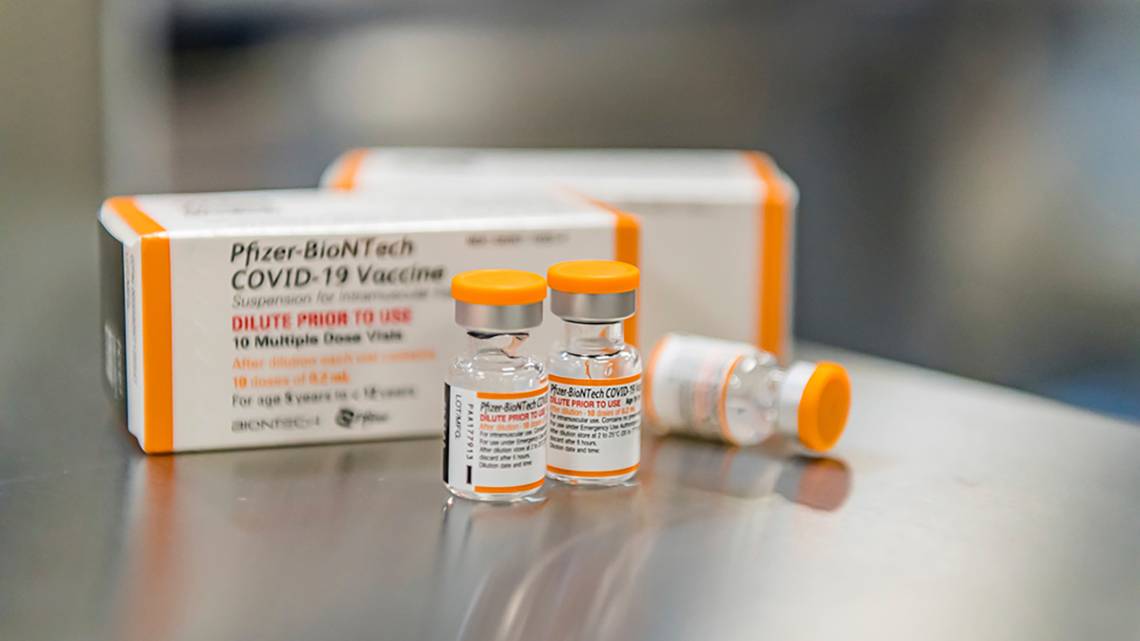 Kids ages 5-11 may soon get Pfizer COVID vaccine as FDA panel votes to support shots
Miami Herald | By Katie Camero | October 26, 2021
This article has Unlimited Access. For more coverage, sign up for our daily coronavirus newsletter. To support our commitment to public service journalism: Subscribe Now.
A U.S. Food and Drug Administration advisory committee voted in favor of authorizing Pfizer COVID-19 vaccines for children ages 5-11 on Oct. 26 based on data that shows the shots safely help kids produce robust immune responses against the coronavirus.
The vaccine would be administered in two small doses, a third of the amount given to teens and adults, given three weeks apart. Officials found the smaller dose offered adequate protection and led to less intense side effects.
Now, the FDA must officially authorize the Pfizer vaccine for children ages 5-11; the group usually follows the advice of its expert panel but doesn't have to. Then, a Centers for Disease Control and Prevention advisory panel must discuss and make its own recommendations, which typically follow those set forth by the FDA.
The CDC is scheduled to meet Nov. 2. Once the agency issues its advice, the director, Dr. Rochelle Walensky, must approve the recommendations before millions of kids ages 5-11 can roll up their sleeves as early as Nov. 3.
There have been 1.8 million COVID-19 cases and 143 coronavirus-related deaths among kids ages 5-11 in the U.S. as of Oct. 14, according to an FDA briefing document on Pfizer's data released ahead of Tuesday's virtual meeting. There have also been 8,622 kids that age hospitalized with COVID-19 since Sept. 18, about a third of which did not have other medical conditions that increased their risks of severe disease.
The highly infectious delta coronavirus variant spurred a 484% increase in COVID-19 cases among children ages 5-11 in August and September compared to the two months prior.
Experts say the pediatric burden of COVID-19 now "likely exceeds" that of the flu.
Although children are much less likely to die from COVID-19 compared to adults, the disease was among the top 10 leading causes of death for kids between 5 and 14 years old earlier this year.
Evidence shows children can spread the coronavirus just as much as adults, even if they don't experience symptoms while infected, suggesting vaccination in this age group can prevent further viral spread and help slow the pandemic.
The FDA said the Pfizer vaccine would prevent an estimated 33,600 COVID-19 cases and 170 hospitalizations per million fully vaccinated kids ages 5-11 over four months.
HOW SAFE AND EFFECTIVE IS THE PFIZER COVID-19 VACCINE IN KIDS AGES 5-11?
Clinical trial results involving about 2,300 children between 5 and 11 years old showed the Pfizer vaccine was about 90% effective at preventing coronavirus infection with symptoms at least a week after receipt of the second dose.
Side effects of vaccination were mild to moderate and went away within one to two days after getting the shot. The most common reactions were fatigue, headache, muscle pain, chills and arm pain at the injection site.
There were no cases of severe COVID-19 or of multisystem inflammatory syndrome (MIS-C) reported among kids included in the clinical trial. A total of 5,217 children have been diagnosed with MIS-C since Oct. 4, the FDA said; 50% of them were between 5 and 13 years old.
The trial also saw no cases of myocarditis or pericarditis, which is inflammation in the heart muscle, within three months after receipt of the second dose. However, FDA officials said the number of participants in the clinical trial "is too small to detect any potential risks of myocarditis associated with vaccination."
The heart conditions have affected mostly young males and have been at the center of many parents' and doctor's concerns surrounding COVID-19 vaccination in children. Still, the conditions are considered a rare consequence of the shots.
Data from Israel shows the incidence rate of myocarditis peaks in males ages 16 to 19 and declines in all kids ages 12 to 15. But because the dose for children between 5 and 11 years old is a third of the dose given to older people, the FDA said "it's reasonable to predict" that myocarditis rates will be lower in this age group.
The Pfizer vaccine is currently available for people ages 16 and older under the FDA approved name "Comirnaty." The shot is also available under an emergency use authorization for kids between 12 and 15 years old and as a third dose for people ages 12 and older who have weakened immune systems.
As of Sept. 23, the Pfizer vaccine booster shot is available for certain people.