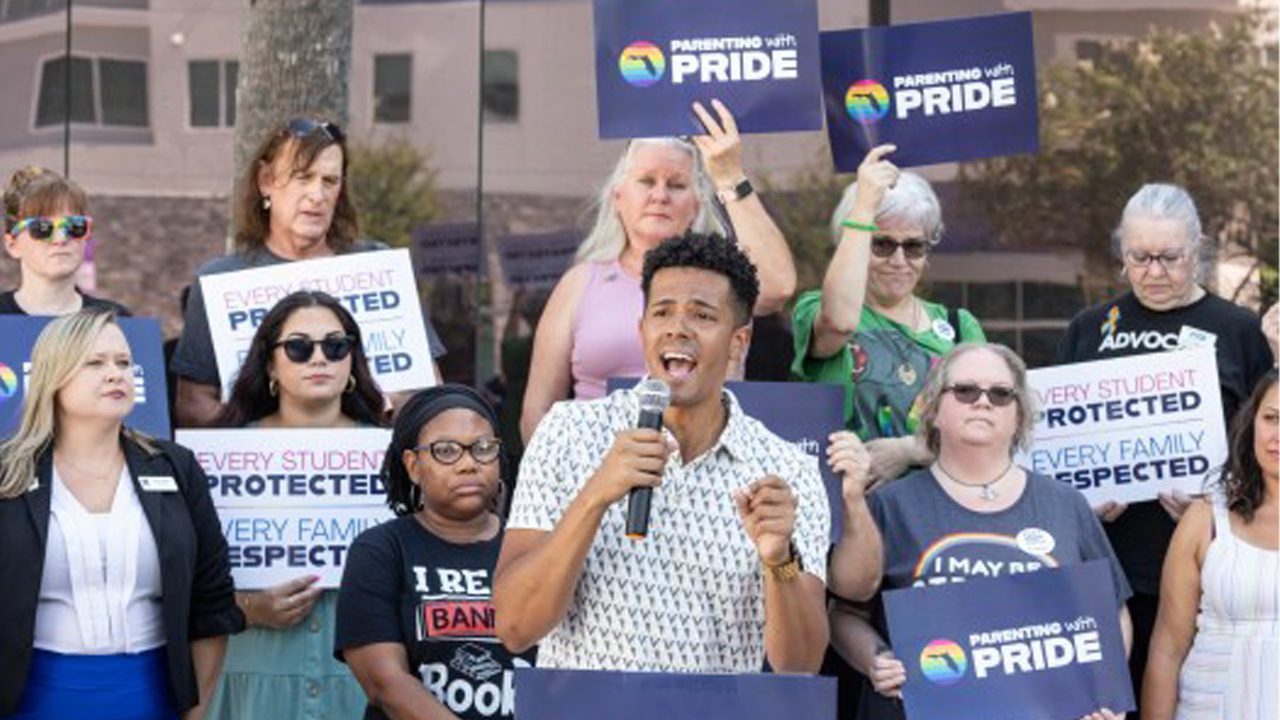 'Parenting with Pride' aims to take on conservative Moms for Liberty in schools
Orlando Sentinel | By Desiree Stennett | August 15, 2023
About a dozen parents and supporters gathered outside Orange County Public Schools' downtown headquarters to announce the start of Parenting with Pride, a new program launched by Equality Florida to combat conservative organizations like Moms for Liberty, which have pushed for new laws and policies that progressive activists fear have already begun to harm LGBTQ and minority students.
"This is what Florida families really look like," said Brandon Wolf, spokesperson for Equality Florida as he gestured to the group of people with varying races, gender identities, sexualities and immigration statuses who had come to support the new initiative. "For years, parents and families just like the ones behind me have been under assault. … Politicians have waged war on these families turning their classrooms into political battlefields and descending school districts into utter chaos. But today marks a turning of the tide. Today marks a rise in the resistance against that agenda."
A handful of parents spoke for the more than 1,000 families Wolf said have already joined the group across the state. They called for protection for LGBTQ students and teachers, an end to book bans and for the implementation of school curriculums that teach history truthfully.
As organizations like the Florida-based Moms for Liberty have gained more influence over school boards in Central Florida and across the state, they have championed policies that ban discussions about sexual orientation in schools, prohibit transgender student-athletes from playing on the teams that match their gender identity, and ban books, many by minority and LGBTQ authors.
Moms for Liberty, which was recently named an extremist group by the Southern Poverty Law Center and has ties to members of hate groups, has gotten support from Gov. Ron DeSantis and other conservative politicians who have passed new laws and changed policies leading to sweeping changes in Florida's public schools.
Among other changes, a recent update Florida's African American History standards, to include teaching that slaves learned valuable skills and about violence used "against and by African Americans" during incidents of racial terror, like the Ocoee massacre, sparked outrage among Black leaders and historians.
Tatiana Quiroga, executive director or Come Out With Pride, shared the years-long fertility journey she and her wife went through to have their two children and said LGBTQ+ families deserve to have their voices heard too.
"Being part of an LGBTQ+ family comes with so many trials and tribulations yet at the same time with so many joys and victories because we so intentionally create our families," Quiroga said. "So to know that we are in a time where the state of Florida is trying to erase us, telling us that these efforts are being done in the name of parent rights the true question has the be, for which parents and for whose rights?"
Cassandra Brown, another parent and founder of nonprofit All About the Ballots, said parents should not have to fight for "common sense" policies like gun control, Medicaid expansion, rent control and adequate education, all of which could improve the lives of children and their families.
"Our state's focus should be less on deciding which books our children are allowed to read and more on protecting these vital freedoms and providing these essential services for all of our children," she said.
With Tuesday morning's launch, Wolf said Parenting with Pride will work to keep families across the state informed of new laws, teach them about their rights, provide advocacy training and connect families harmed by new policies to organizations that can help.
The group also called on more parents across the state who believe in progressive policies in schools to not only join them but to attend school board meetings, support their local Parent-Teacher Associations, write to their legislators and vote for new representatives who will support their mission.
"When they are mobilized, informed, and empowered, families will chart the path toward a better Florida," Wolf said.