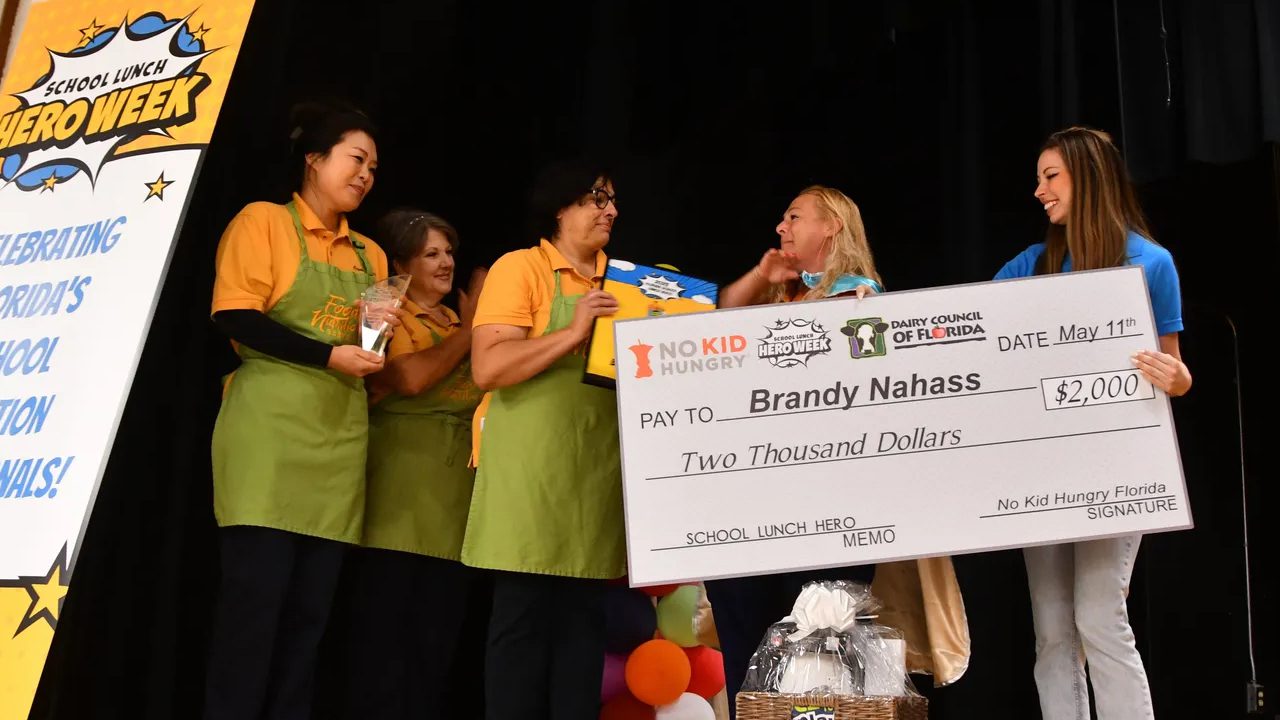 Brevard cafeteria manager one of five in Florida named 'School Lunch Hero'
Florida Today | By Finch Walker | May 11, 2023
Nahass was one of five people in Florida to win the award.
She knows every child's name and what foods they like best, and is up prepping breakfast and lunch while many of the kids who'll eat those meals might still be sleeping.
It's only Brandy Nahass' first year as cafeteria manager at John F. Turner Elementary in Palm Bay, but the impact she's made on students has already earned her another title: that of a 2023 Florida School Lunch Hero — complete with a cape.
Nahass, a chef of 28 years, was recognized Thursday morning with the accolade and several prizes, provided by No Kid Hungry Florida, Florida Department of Agriculture and Consumer Services and the Dairy Council of Florida. She is one of five statewide winners.
Partners from Turner Elementary, Brevard Public Schools, No Kid Hungry and the Florida Department of Agriculture presented the award to Nahass at the school, with an audience of about 100 students cheering her on. The honor comes the week after School Lunch Hero Day was celebrated on May 5 at BPS and around the state.
Nahass wiped away tears as she received a placard, a superhero cape, a gift basket with an Apple watch, other gear from the Florida Department of Agriculture and No Kid Hungry and a $2,000 check.
She was recognized for increasing the number of kids eating in the cafeteria, decorating the cafeteria, creating a new teacher menu, adding notes and stickers to lunch specials, empowering her staff, knowing every student's name and introducing new foods to the lunch menu.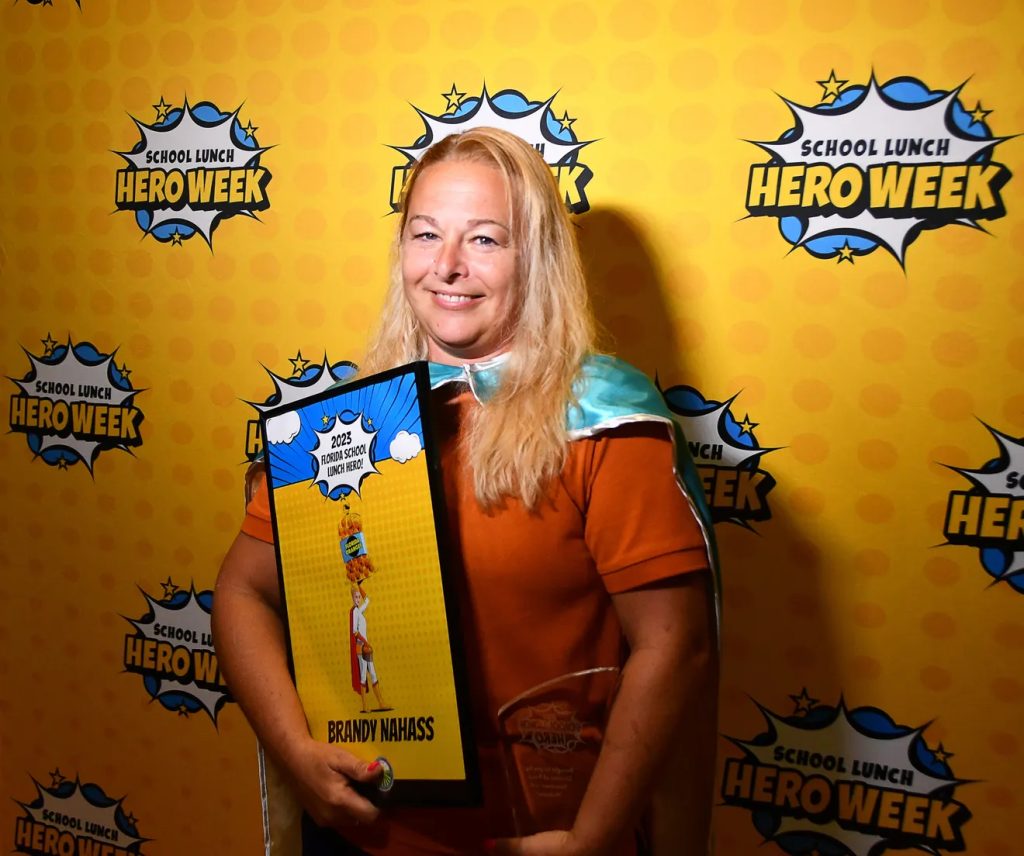 "I just want to thank absolutely every single one of you," Nahass said. "My crew — we just put our heart into everything that we do and we love you guys."
Ashley Toll, principal of Turner Elementary, called Nahass the "most positive, caring, patient person."
"She comes in with a smile every day, she makes the kids smile," Toll said. "She makes them feel loved and just like they are so wanted here, because she's the first person they see when they come to get their breakfast."
Nahass' work day typically begins at about 5:30 a.m., when she arrives to begin preparing breakfast with her cafeteria staff. Over the course of the day, which generally lasts until about 2:30 p.m., she provides breakfast and lunch, interacts with students, cooks and cleans and orders food to keep the cafeteria stocked. There's a mix of foods she serves the kids, but the most popular item is chicken nuggets, she said.
"Yesterday we got an order in … there were about 10 cases of chicken," she said. She added that the kids like everything spicy.
Sky Beard, Florida's director for No Kid Hungry, said she wished kids could see a "peek behind the scenes" at Nahass' job.
"Those that feed kids every day in school, they are here while we're still sleeping," she said. "They are working hard under some really difficult challenging circumstances, but they do it every day with such big hearts and such desire to make sure that students like you have what they need to be successful for the rest of the day."
Beard said there were more 400 nominations across the state for School Lunch Hero. Nahass stood out because of her commitment to meeting the needs of Turner students, Beard said.
"She understands how important (healthy food) is to the overall success and well-being of children without access to school meals," Beard said.
"Many children really struggle to be able to get the nutritious food that they need, so school meals play a really critical role in our education system."
For Nahass, the kids are what keep her job fun, she said.
"It's a different adventure every day with every kid," she said. "It really is. They're what drives us to come in every day."