KeysWeekly | by The Weekly Staff | March 9, 2021
Coral Shores High School junior Gage Cooper has been selected as Monroe County School District's Sunshine State Scholar for the 2020-21 school year. The program, sponsored by the Florida Education Foundation, is designed to bring together scholars from around the state, connect them with employers that specialize in the STEM fields, and create a networking opportunity between the scholars and schools from Florida's College and State University System. Cooper will join a pool of 103 high school juniors, each selected as one of their district's top 11th-grade STEM students, for the exciting program which will feature a collaborative student "think tank" on tough Florida challenges.
Cooper's teachers describe him as a creative, insightful and forward thinking individual who asks thought-provoking questions and is always willing to help another student.
"Gage has an outstanding ability to connect all the branches of science into a deep understanding of the world around us," stated Coral Shores High School Advanced Placement Environmental Studies teacher, Natalie Ledoux. "His willingness to learn and his heartfelt concern for the Earth drive his passion for success in all of his classes. His strong work ethic and dedication to his studies will surely pave the way for this future environmentalist to change the world for the better."
The Sunshine State Scholars program will take place in June. The two-day program will honor the scholars for their significant academic accomplishments and celebrate the potential they represent for our communities and state. In addition to the honor the scholars receive from the commissioner of education, the chancellor of K-12 public schools and the chancellor of innovation, representatives from Florida's colleges and universities meet with the students to discuss higher education opportunities available to them in Florida.
Leonard Volchek Marathon High School Weighted GPS: 4.549 Clubs/extracurricular activities: National Honor Society, Mu Alpha Theta, Academic Challenge Competition Team, Jazz band, Interact, Technology and Engineering Club "Leo is a multifaceted individual. He speaks five languages and can hold an in-depth conversation on a multitude of topics. His deep passion for science, particularly physics and epidemiology, will no doubt help him achieve his dreams of making sizable contributions to society. — MHS Principal, Wendy McPherson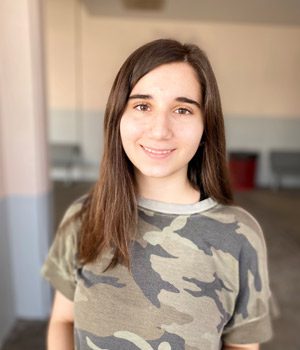 Lainey Cabanas Key West High School Weighted GPS: 4.453 Clubs/extracurricular activities: National Honor Society, Model UN Club, Zonta, Conchettes, AVID "Lainey's motivation seems to be intrinsic. She has an analytical mind coupled with a rare work ethic. Lainey is unassuming, hardworking, humble, and most importantly, kind. She will definitely leave her mark on the world." — AP chemistry teacher, Donna Tedesco