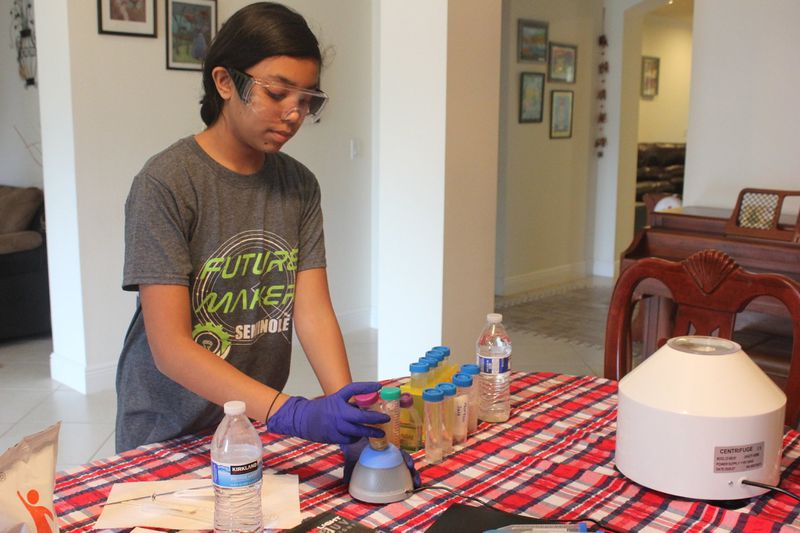 Oviedo student vying for $25,000 prize in national 3M Young Scientist Challenge
Orlando Sentinel | By Leslie Postal | July 16, 2021
In Costa Rica on a family vacation, Moitri Santra saw several beaches that were closed because of an ugly red-brown substance floating in the water.
The algae bloom, she learned, was similar to those that have polluted Florida's waters and gave her an idea for a science fair project — one that two years later could win her a $25,000 national prize.
Working from a table in her family's Oviedo home, the 12-year-old developed a gel that can clump and sink the harmful algae, limiting its detrimental impact on marine life.
This summer the project earned her one of 10 finalists slots in the national 3M Young Scientist Challenge. The top prize winner will be announced in October at the challenge's final event in Minneapolis.
"It was unexpected," said Moitri, who next month will start eighth grade at Jackson Heights Middle School. "I was in my room and just doing something. My mom came in with the phone and said someone wanted to talk to me."
The caller told Moitri her project had made the Top 10. As a finalist, she is guaranteed a $1,000 prize and also gets a paid trip to Minneapolis.
"I was shocked," she said. "I was excited."
She's in good company in the Santra family. Earlier this year, her sister Laboni, who just graduated from Oviedo High School, was named one of the nation's top 300 young scientists in the 2021 Regeneron Science Talent Search, winning a $2,000 prize and another $2,000 for her school. Laboni will be a student at the Massachusetts Institute of Technology in the fall.
The 3M competition is open to students in grades 5 to 8 and attracts hundreds of applicants each year. One of the other finalists this year is another Florida girl, Sarah Park of Jacksonville.
Among the other winning ideas: a reusable shipping box to cut down on waste, a way to extend the life of blood products, a program to track endangered species and an app to help teachers understand the emotions of students with autism.
"The 3M Young Scientist Challenge demonstrates the transformative power of young minds to address global challenges by combining their unique and diverse perspectives on innovation, creativity, and a passion for a better world," said Denise Rutherford, senior vice president and chief corporate affairs officer of 3M, in a statement.
After the 2019 winter vacation to Costa Rica, Moitri decided she'd focus on finding solutions to harmful algae as her sixth grade science fair project. She learned of the 3M challenge on social media and entered the contest but did not win any recognition.
She kept working on her project, however, and entered the challenge again as a seventh grader.
Her idea was to develop an environmentally friendly substance that would rupture the algae's cells and make it sink in the water, away from the sunlight it needs to grow.
She researched products and settled on chitosan, a sugar from the outer shell of shellfish, and citric acid, which combine to form a gel.
She ordered her supplies from Amazon and from a table set up near the family living room she cultured algae and tested different concentrations of her gel, watching to see what would make the algae sink to the bottom of a test tube.
"This was a completely at–home project actually," she said.
She tested her gel on both freshwater and saltwater algae, she explained in the required video submitted with her entry. She also experimented with it in water with brine shrimp, watching to see if the shrimp grew normally. They did, and she concluded her gel shouldn't harm sea life.
She hopes that her project can some day help solve the algae problem in "the real world."
As a finalist, she is paired with a 3M mentor this summer. He is helping her, and keeping her "busy in a good way," as she works on a related project ahead of the final event in the fall.
"It was one of the most exciting parts of my summer," she said.